Best MP5 Loadout for Call of Duty: Black Ops Cold War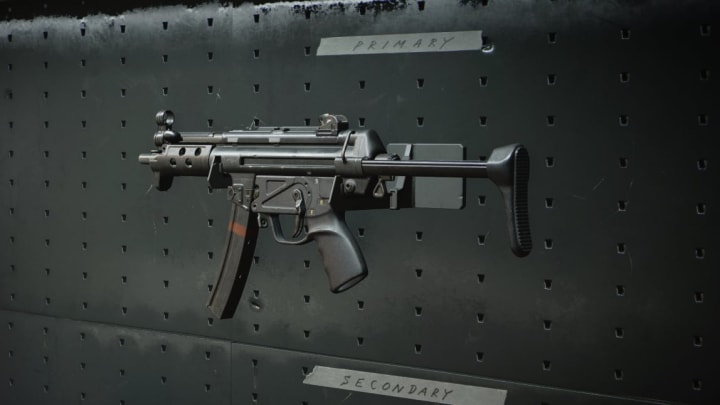 These are the best attachments to use on the MP5 in Call of Duty: Black Ops Cold War. / Photo courtesy of Treyarch
The MP5 loadout for Call of Duty: Black Ops Cold War is one of the best classes to use in the game despite the nerf to SMGs at range since the beta.
While the Black Ops Cold War version of the MP5 is yet to drop in Verdansk for use in Call of Duty: Warzone until Dec. 10, it is available to use in multiplayer. Here is the best class MP5 attachment setup for those 6-v-6, 12-v-12 and 40-player affairs.
Best MP5 loadout for Call of Duty: Black Ops Cold War
This is the best five-attachment setup to use for those looking to use Wildcards other than Gunfighter in their class setup. Otherwise, feel free to add on any other three attachments to your liking.
Muzzle: Agency Suppressor
Underbarrel: SFOD Speedgrip
The Agency Suppressor muzzle not only keeps the MP5 off the radar while shooting, but it also adds some much needed vertical recoil control, especially with the barrel I recommend players to use.
Adding 6% damage, 50% effective damage range and 75% bullet velocity, the 9.5" Task Force barrel makes the MP5 pack more of a punch.
Opt for the SFOD Speedgrip underbarrel. It turns the MP5 into a laser beam, and buffs its movement speed while sprinting.
For the handle, I'd go with the Serpent Wrap for its ability to maximize the MP5's aim down sight speed without costing too much sprint to fire time.
Lastly, the Raider Stock improves the mobility of the MP5 further, increasing the sprint to fire speed once again while also buffing the gun's aim walking movement speed.