Best Pistol in Warzone: Pistol Tier List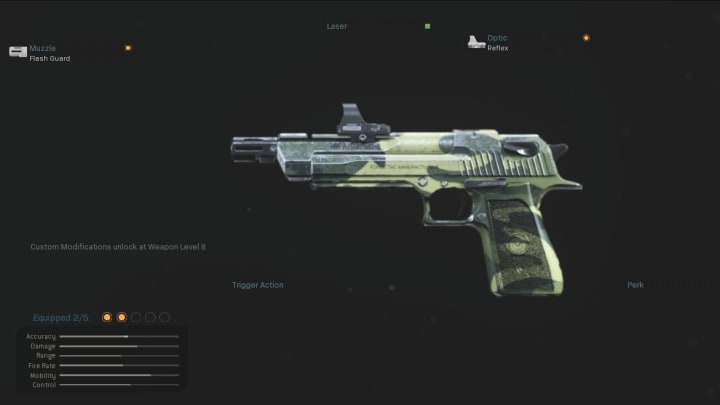 The .50 GS in Warzone. / Photo by Max Mallow
Best pistol in Warzone differs greatly among the four available in the game.
Pistols aren't all that useful, but are required in certain areas of the game like the very beginning and in the Gulag. Pistols are often the randomized weapon choice for the Gulag and every player spawns with the X16 to start.
Best Pistol in Warzone: Pistol Tier List
Here are the best pistols ordered in tiers in Call of Duty: Warzone:
S Tier
.50 GS - The .50 GS, otherwise known as the Desert Eagle, is the best pistol not only in Warzone, but all of Modern Warfare. It packs an insane punch and can be modified with attachments to increase range and fire rate. Again, a pistol isn't recommended, but the .50 GS will burn through an enemy's armor
B Tier
.357 - The revolver features often in the Gulag. This gun suffers from its lack of fire rate, but it still packs a punch. You should only become used to this weapon so you can dominate in the Gulag.
C Tier
X16 - It's a nice touch from Infinity Ward to give everyone a starting weapon. Although, the X16 should be dropped almost instantly upon finding loot. It doesn't do enough damage to take on a fully automatic assault rifle or sub-machine gun.
M19 - Same statement applies for this pistol. Try not to pick it up unless you absolutely have to.
1911 - Call of Duty developers just love throwing in weapons from the past. Well, this one should stay there when it comes to building your loadouts in Warzone.