Best PKM Loadout Warzone December 2020: Which Attachments to Use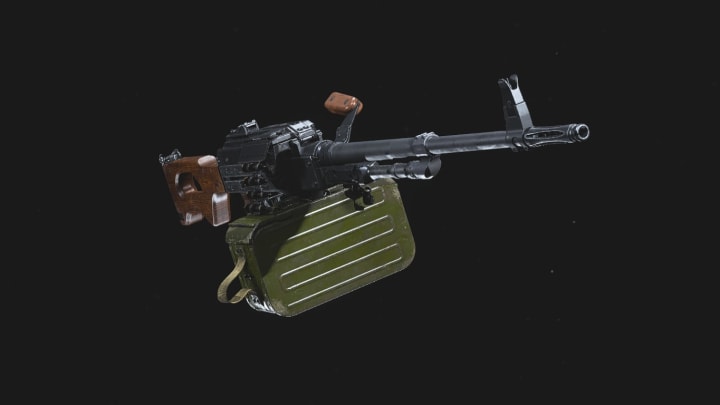 These are the best attachments to use on the PKM in Verdansk this month. / Photo courtesy of Infinity Ward
The best PKM Loadout in Warzone for December 2020 is decently underrated as a viable option in Season Six.
Since the Bruen MK9 nerfs dropped back in August, light machine guns seem to have taken a considerable step back in the meta to the likes of the Kilo 141 and the CR-56 AMAX. While its slow reload time keeps it from being a top overall contender, the PKM is likely the best LMG in the game. Here's the best PKM loadout to use before Warzone integration drops with the launch of Season One.
Best PKM Loadout Warzone December 2020: Which Attachments to Use
Optic: Corp Combat Holo Sight
Barrel: 26.9" Extended Barrel
Muzzle: Monolithic Suppressor
While the optic ultimately comes down to preference, the Corp Combat Holo Sight complements the PKM's vertical-heavy recoil pattern, and provides reliable target acquisition due to its clean configuration and low magnification.
In addition to the damage range and recoil control pros, the 26.9" Extended Barrel is the better choice over the 25.9" Heavy Barrel because of the extra bullet velocity.
The Snatch Grip underbarrel is one of the best attachments in all of Warzone as it helps out tremendously with recoil control as well as ADS speed. Coupling this grip with the Tac Laser further aids with the sluggish ADS speed often found in stock LMGs.
Lastly, the Monolithic Suppressor is a surefire option thanks to its sound suppression and added damage range.