Best Uzi Class Setup in Modern Warfare: Which Uzi Setup Dominates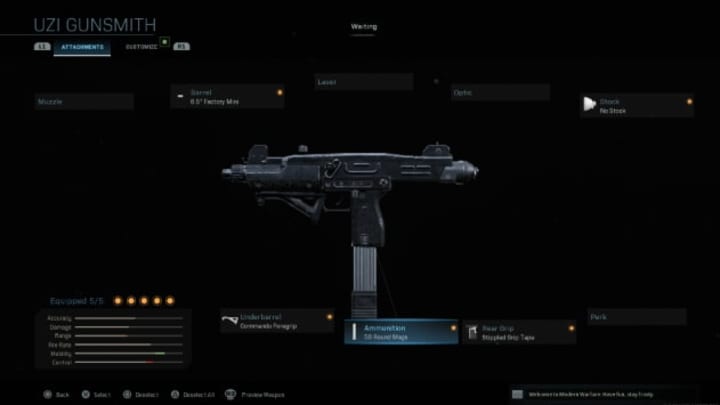 Finding the best Uzi class setup in Modern Warfare is all about adaptability.
The weapon is different than previous iterations as it's larger than before and it's not even unlocked until level 34. It can be a useful
Out of all the ways to play with this weapon, we're going to describe the best way to become a glass cannon. You are about damage and kills, not survival.
Best Uzi Class Attachments
8.5" Factory Mini (Barrel)
No Stock (Stock)
Stippled Grip Tape (Rear Grip)
50 Round Mags (Ammunition)
Commando Foregrip (Underbarrel)
With a short barrel, it closely resembles the smaller version from year's past. It's good at close encounters and you have 50 bullets to kill someone.
Best Uzi Class Perks
Double Time (Perk 1)
Hardline (Perk 2)
Battle Hardened (Perk 3)
This is all about speed, earning killstreaks and dealing with stun grenades.
Best Uzi Class Grenades
Frag Grenade (Lethal)
Stim (Tactical)
Best Uzi Class Killstreaks
Care Package (4 Kills)
Sentry Gun (7 Kills)
Chopper Gunner (10 Kills)
Nothing flashy here, get your kills, activate your rewards.