Top Games
Big Dog Players Listed for MLB The Show 22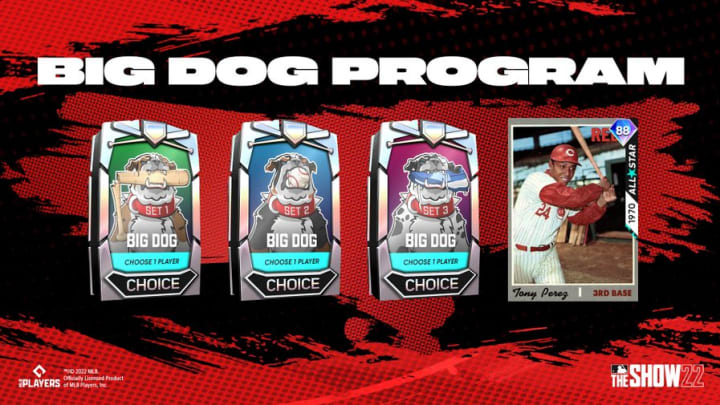 Image courtesy of Sony
MLB The Show 22's Big Dog promo is live in Diamond Dynasty, and with it all the Big Dog players. Here's all the information you need to know about which players are in this Diamond Dynasty promotion for MLB The Show 22.
As a part of the promotion, during the event there are special Moments and Missions to complete, which will give players event points to use to unlock rewards. The rewards vary, but the best and most expensive reward is special Big Dog All-Star Tony Perez, an 88 rated-card for you to add to your lineup.
Big Dog Players MLB The Show 22
In an online forum post, one user compiled a list of all of the players available in the Big Dog promotion to get from rewards or packs. Here are all the Big Dog players available in MLB The Show 22.
Big Dog Set 1:
Anthony Volpe - Yankees - Prospect
Cory Kluber - Indians - Breakout
Todd Helton - Rockies - All Star
Jack Leiter - Rangers - Prospect
Curtis Granderson - Yankees - All Star
Pablo Sandoval - Giants - Breakout
Adam Ottavino - Rockies - Veteran
Jordan Walker - Cardinals - Prospect
Big Dog Set 2:
Bobby Witt Jr. - Royals - Prospect
John Franco - Mets - Signature
Adam Dunn - Reds - Prime
Tristan Casas - Red Sox - Prospect
Huston Street - Athletics - Awards
Minnie Minoso - White Sox - Rookie
Steve Finley - Diamondbacks - All Star
Noelvi Marte - Mariners - Prospect
Big Dog Set 3:
David Price - Rays - Awards
Christian Yelich - Brewers - Breakout
Gabriel Moreno - Blue Jays - Prospect
Nelson Cruz - Rangers - Breakout
Oneil Cruz - Pirates - Prospect
Lefty Grove - Athletics - Postseason
Brian Roberts - Orioles - Breakout
Francisco Alvarez - Mets - Prospect