Call of Duty
Black Ops Cold War and Warzone Season 5 Roadmap Released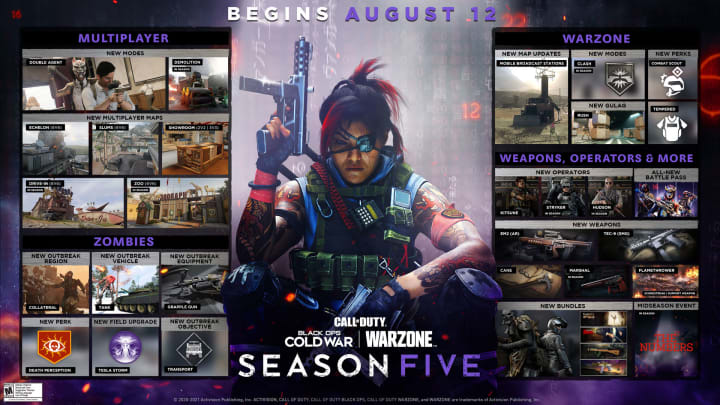 Season Five in Call of Duty: Black Ops Cold War and Warzone launches Aug. 12, 2021. / Photo courtesy of Activision
Season Five of Call of Duty: Black Ops Cold War and Warzone has officially been revealed, giving players a full on, in-depth preview of what's to come in the new content wave starting next week.
Activision releases a roadmap for each season prior to the update going live. The rundown showcases new weapons, modes, features and more for the new season. That doesn't necessarily mean everything in the roadmap is going to be available on day one, however, considering Activision saves some features for later in the season.
While last time around, Activision focused on the unveil of Hijacked, it appears Season Five main course is an all-new multiplayer mode. Now, with the roadmap released, here's what fans can expect for Season Five.
Black Ops Cold War and Warzone Season 5 Roadmap Released
Black Ops Cold War Multiplayer
Heading to Black Ops Cold War multiplayer is the new Double Agent mode, which is dubbed as an "investigative" party experience. Similar to the various social deduction games that have shot up in popularity, such as Among Us, the new mode starts with up to 10 players in a lobby who are assigned one of three roles:
Double Agent: must either eliminate everyone else or successfully set off explosive charges around the map
The Investigator can use clues to target suspected Double Agents as Wanted criminals
Operatives: must work together to identify and eliminate the Double Agents before it's too late
Ultimately, with voice chat being strongly encouraged, this sounds like a potential fan favorite for years to come with Call of Duty looking to put their own twist on the genre.
Five new maps will be coming to Cold War. While Echelon (6v6), Slums (6v6) and Showroom (2v2, 3v3) will be available at launch, Drive-In (6v6) and Zoo (6v6) are set to release with the mid-season Reloaded update along with the return of Demolition.
Warzone
Coming to Warzone ae the long-awaited new perks, Combat Scout and Tempered, which will likely fundamentally change the way gunfights go down.
Meanwhile, new POIs have been scattered across Verdansk '84 in the form of Mobile Broadcast Stations and [[REDACTED]].
Making its way over from Cold War, the main speedball arena of the classic Black Ops II map, Rush, will now be the new Gulag.
With three new operators, four new weapons and new game modes and mid-season events set to take place, perhaps Warzone will have plenty of players coming back to see what's new.
Call of Duty: Black Ops Cold War and Warzone Season 5 kicks off Aug. 12. In preparation, updates for the new content will be available on Black Ops Cold War on Aug. 10 at 9 p.m. PT and Warzone on Aug. 11 at 9 p.m. PT.