Top Games
Blizzard Albany Testers Win Right to Unionize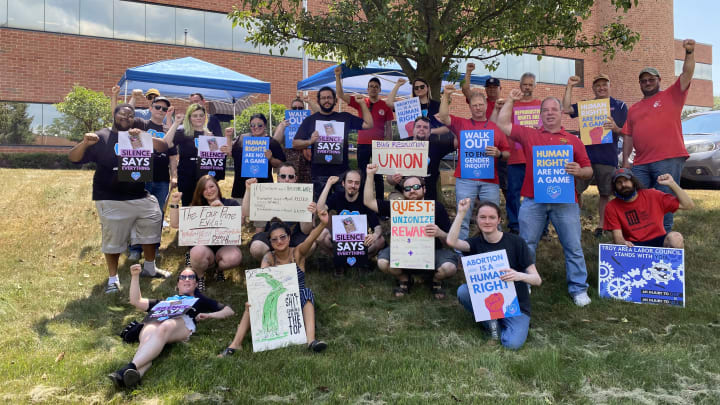 Workers at Blizzard Albany. / Game Workers Alliance Albany
Quality assurance testers at Blizzard Albany, the studio formerly known as Vicarious Visions and focusing on the Diablo series, won the right to form a union Tuesday, Kotaku reported.
The National Labor Relations Board accepted the petition testers sent in July, allowing for a formal unionization vote to take place. Union ballots will be distributed Oct. 27, and the results of the vote will be published Nov. 18.
As it has in previous unionization efforts, Activision Blizzard worked to undermine organizers. It argued the decision to unionize should be made by the entire staff at Blizzard Albany rather than just the testing team, an argument it used when testers at Raven Software attempted to unionize. The argument failed in both cases, with the NLRB ruling the testers could unionize independent of the rest of the studio.
"Comparing the developers' community of interest to that of the testers I find that the distinct interests of the testers outweigh the similarities that exist with the developers," wrote NLRB Regional Director Linda M. Leslie in her ruling. "As noted, the testers participate in the same game development process that includes significant contact and functional integration. However, testers are separately organized in their own department and their supervisory hierarchy is entirely separate from the Diablo franchise.
"Testers also have a specific set of skills and duties different from the developers. Finally, testers are paid significantly less than developers. Moreover, the evidence of interchange between testers and developers is extremely limited."
Activision Blizzard executive vice president of corporate affairs and chief communications officer Lulu Cheng Meservey told employees the company would respect the NLRB's ruling, but reiterated its anti-union line in an internal memo viewed by Kotaku.
"[Activision Blizzard] fully respects the NLRB process, and fully supports the employees' right to choose how they want to be represented. Also has the view that people who work closely together should be able to make decisions like that collectively - ie, we disagree that a handful of employees should get to decide for everyone else on the future of the entire Albany-based Diablo team."
Should testers at Blizzard Albany win their union vote, they will become the second union to form at Activision Blizzard, following on the heels of the Game Workers Alliance at Raven Software, which formed in May. That union remains in bargaining with Activision Blizzard for a contract.
Activision Blizzard is in the process of being acquired Microsoft for $68.7 billion. Microsoft has signed a labor neutrality agreement that states, should it close the acquisition of Activision Blizzard, it will not interfere with unionization efforts at its studios. The Communications Workers of America, which has aided the unionization efforts at Raven and Blizzard Albany, announced support for the merger following that agreement.