Blizzard Announces Overwatch 2 PVP Beta Coming Soon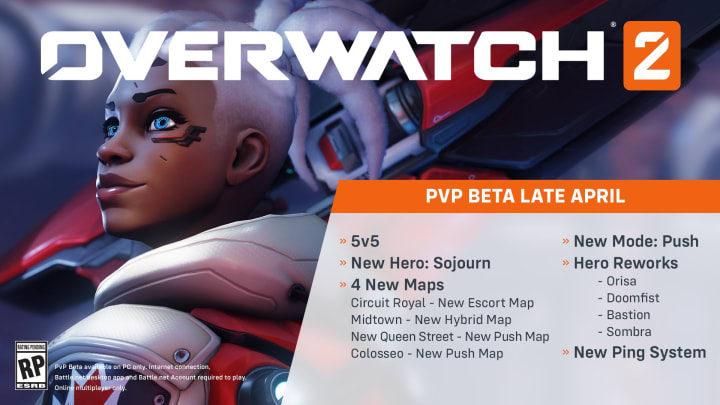 Blizzard Entertainment has announced the Overwatch 2 PVP Beta will be coming soon and players are encouraged to sign up to participate. / Blizzard Entertainment
Blizzard Entertainment has announced the Overwatch 2 PVP Beta will be coming soon and players are encouraged to sign up to participate.
The announcement was made earlier today, Thursday, Mar. 10 on the verified Overwatch Twitter account. According to the announcement tweet, the beta will begin in April with "new heroes, maps and modes." Players can sign up through the linked OW2Beta webpage which is currently under maintenance at the time of writing—by design or by server traffic overload, we can't say for sure.
"It's been 0 days since the last Overwatch 2 update," the tweet read.
Overwatch 2 PVP Beta Features New Maps and Modes
In a reply to the original tweet, Blizzard published a graphic giving a bit more detail about what players can expect should they make it into the beta.
Players will be able to experience traditional 5v5 gameplay on four new maps: Circuit Royal, Midtown, New Queen Street, and Colosseo. Each corresponds to a different mode available in the game: Escort, Hybrid, and two Push, respectively.
Some may have noticed that the latter of these modes is entirely brand new, as stated in the graphic. A new ping system has also been implemented.
Four heroes have received some reworks heading into the beta, as well. Fans should recognize them from their rework teasers earlier this year. However, for those who forgot or were never aware, these are:
Orisa
Doomfist
Bastion
Sombra
"We look forward to building a new era of Overwatch 2 together," the thread read.
The Overwatch 2 PVP beta will begin in late April 2022.