Brass Tacks Warzone Blueprint - How to Get it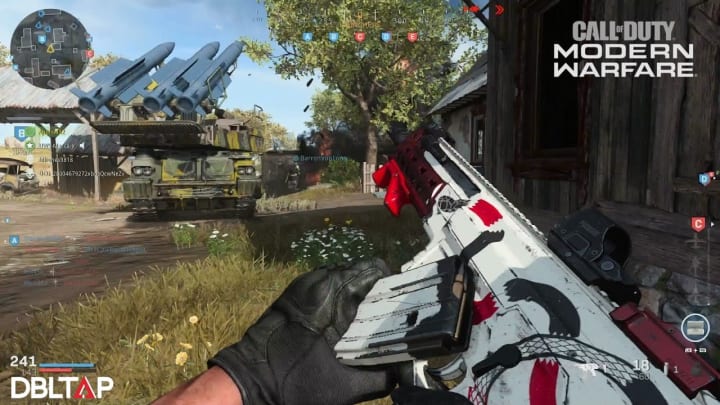 The new Brass Tacks variant for the Kilo 141 is absolutely gorgeous. But is it being wasted on a non-meta weapon? / Photo by Chaz Frazer / DBLTAP
Brass Tacks Warzone Blueprint - which isn't actually tied to Warzone at all but instead the Call of Duty Store, is one of the newest to hit the game and is turning collective heads. The gorgeous Blueprint for the Kilo 141 Assault Rifle is an epic variant that looks conspicuously like the iconic Gucci Snake applique. Players are already begging Infinity Ward to make the weapon skin available for other weapons. 
While the Kilo 141 is not currently a meta weapon in Call of Duty: Modern Warfare, it does hold its own in specific multiplayer uses. Seen even less in Warzone, it might be in Infinity Ward's best interest to give the fans what they want. It would be a shame for a gorgeous Blueprint such as the Brass Tacks to go to waste on a weapon that is barely seen in the hands of players at all.
Brass Tacks Warzone Blueprint: How to Unlock
Unfortunately for players who have already purchased the Modern Warfare Season 3 Battle Pass, this Blueprint is not included in the stream of unlocks at all. The Weapon Blueprint is a part of the Scarlet Snake Bundle, and will cost an additional 800 COD Points to own. The bundle contains the Brass Tacks Blueprint, as well as Ruby Red Weapon Charm, and Seeing Scarlet Sticker.
1.

Brass Tacks
Brass Tacks Kilo 141 Epic Weapon Variant / Photo courtesy of Infinity Ward
2.

Ruby Red
Ruby Red Weapon Charm / Photo courtesy of Infinity Ward
3.

Seeing Scarlet
Seeing Scarlet Sticker / Photo courtesy of Infinity Ward
As for the Brass Tacks Blueprint and what it entails in terms of attachments for the Kilo 141 you can expect the following:
Muzzle - Flash Guard

Optic - VLK 3.0x Optic

Stock - FSS Close Quarters Stock

Underbarrel - Tactical Foregrip
Notice that there are only four attachments that are auto-equipped on this Blueprint, leaving you with a freebie to choose whatever you would like. Perhaps the 100 round drum ammo attachment would be overkill and a bit too rough for the delicate design of the Brass Tacks.
As bundles on the COD store are often limited-time offerings, if you are loving this Blueprint as much as I am, be sure to grab yours as soon as possible. Also, don't stop pestering Infinity Ward to release this skin for other popular weapon variants. We all need this on everything.