FIFA
Bukayo Saka FIFA 22 Challenges: How to Complete the TOTS Objective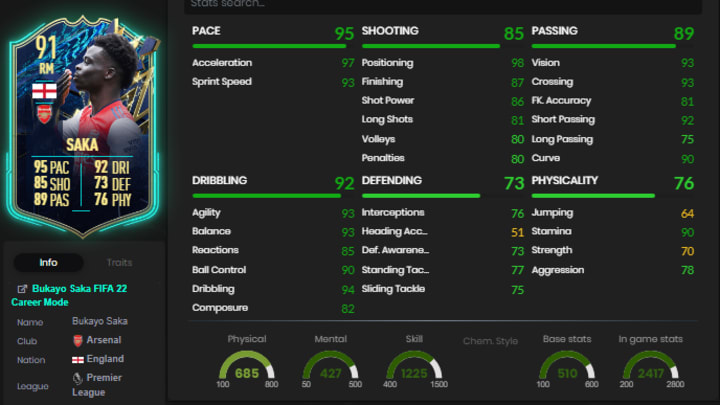 Photo by FUTBIN
Bukayo Saka FIFA 22 challenges went live May 6 with the start of the Premier League Team of the Season.
Saka is one of the brightest young stars in world football, and one of the exciting players at Mikel Arteta's Arsenal. He follows TOTS Parejo as the new objective card tied to a Live FUT Friendly objective. Players will have to head into the Live FUT Friendly: Premier Play to earn this card, and fans expect this to be one of the most popular cards in FIFA 22 for the rest of the cycle.
Bukayo Saka FIFA 22 Challenges: How to Complete the TOTS Objective
Here's how to earn the TOTS Saka objective in FIFA 22:
Scintillating Saka: Assist three goals from crosses in the Live FUT Friendly: Premier Play
Fine Feet: Score five finesse goals using players with min. four-star weak foot in the Live FUT Friendly: Premier Play
Winning Feeling: Win four matches in the live FUT Friendly: Premier Play
Bright Spark: Score using English players in 10 separate matches in the Live FUT Friendly: Premier Play
Completing each objective will also net players packs and experience. EA Sports also released a Team of the Season Moments objective for David De Gea, the first of the promotion. Saka has a top card, and received notable upgrades to his skill moves and weak foot. It's well deserved considering how much the player has contributed to Arsenal this season.