Call of Duty Devs Insert Black Lives Matter Message in Modern Warfare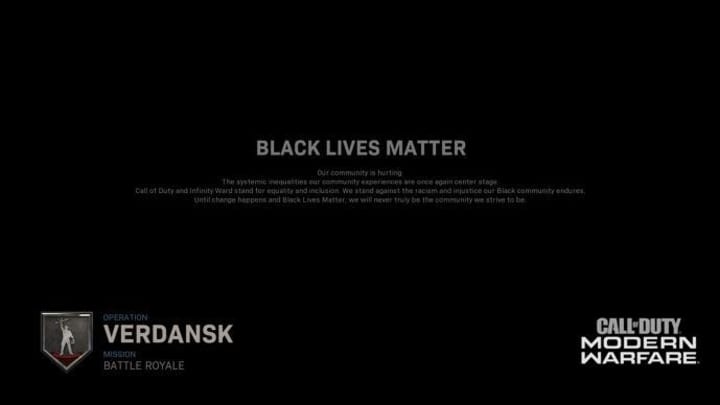 After delaying planned season 4 content in Modern Warfare, Infinity Ward and Activision are doubling down on their message in support of BLM. / Photo courtesy of Infinity Ward
In a move doubling down on the decision to delay planned Season 4 content for Call of Duty: Modern Warfare earlier this week, Infinity Ward and Activision have gone on to show their support for the Black Lives Matter movement and ongoing protests in the United States.
The move was done surprisingly not simply on social media, but also in-game with messages in support of George Floyd's family, the community at large who are hurting from another unwarranted killing of an African-American at the hands of law enforcement, and the systematic racism black people continue to face in America.
Appearing in the usual message of the day screens upon booting up the game reads "Our community is hurting."
"The systemic inequalities our community experiences are once again center stage."
"Call of Duty and Infinity Ward stand for equality and inclusion. We stand against the racism and injustice our Black community endures. Until change happens and Black Lives Matter, we will never truly be the community we strive to be."
Infinity Ward and Activision Make Commitment to Weed Out Racist Players
In another move to address a plague on the online gaming space of Call of Duty since 2007's COD 4, the developers have also made a commitment to weed out the scourge of racist names, online harassment, and racist sentiment that can be experienced any day of the week you play Call of Duty online.
While other developers and publishers have done much to address racist messaging, sentiment and slurs in their games, Call of Duty fans have repeatedly highlighted Activision's failures in cracking down on racism in their games, especially when it comes to verbal abuse and racist custom emblems and player names.
The public acknowledgement from both Infinity Ward and Activision come as mostly peaceful protests continue as an organized movement across the country. As more individuals in law enforcement and politics begin to join the movement in solidarity with the protesters, and pro gamers and content creators also come out in support of the movement, Call of Duty's developers making this decision seems like an easy call to make.
Infinity Ward makes statement in committing to weeding out online racism in their games / Photo courtesy of Infinity Ward
While the developers have acknowledged "We know we have more to do," speaking to an issue and giving it light is the first step to making meaningful change.