Call of Duty: Black Ops Cold War Open Beta Extended 24 Hours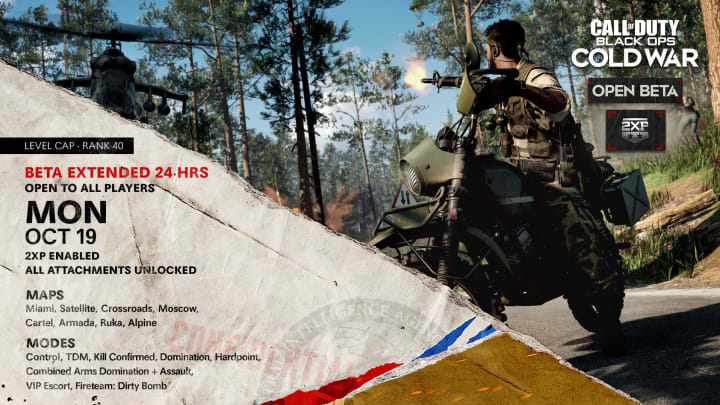 The Call of Duty: Black Ops Cold War open beta has been extended 24 hours. / Photo courtesy of Treyarch
The Call of Duty: Black Ops Cold War open beta has been extended 24 hours.
All players on PlayStation 4, Xbox One and PC will have more time to test out the newest guns, maps and game modes in Black Ops Cold War multiplayer.
Call of Duty: Black Ops Cold War Open Beta Extended 24 Hours
Originally scheduled to end Monday, Oct. 19, the Black Ops Cold War open beta has been extended to end tomorrow afternoon at 1 p.m. ET.
Thanks to double XP, the rank 40 level cap, and all attachments in the game unlocked, players have extra time to play with everything that's been revealed by Treyarch so far.
For those looking to find their preferred weapon in the game, this is the last opportunity to get a head start before its official Nov. 13 release.
The map rotation will stay the same for the remainder of the beta.
Miami, Satellite, Moscow and Cartel are set as the backdrops for the 6v6 game modes of Control, Team Deathmatch, Domination, Hardpoint and VIP Escort. Cartel, Crossroads and Armada host the 12v12 Combined Arms: Domination and Assault modes.
Lastly, Ruka and Alpine are the biggest maps in the beta as battlegrounds for the 40-player Fireteam: Dirty Bomb playlist. With the implementation of parachutes, armor plates and reviving in these maps, this mode just might be sneakily giving players a taste of what a new Black Ops Cold War Warzone map could look like.