Call of Duty: Black Ops Cold War Season 1 Roadmap Revealed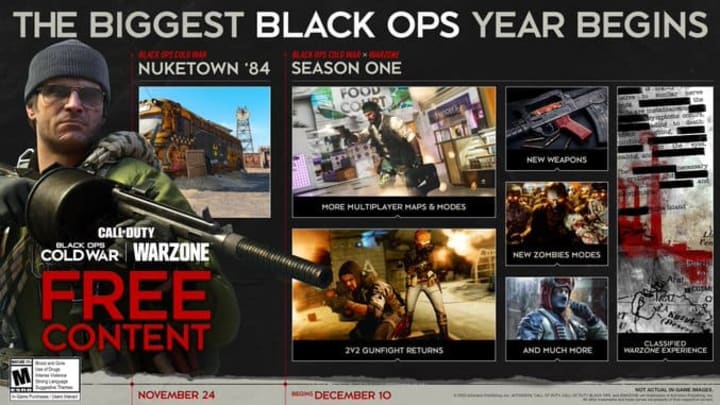 Photo by Treyarch/Activision
The Call of Duty: Black Ops Cold War Season 1 roadmap was posted to the official Call of Duty Twitter account Nov. 5 giving fans a look at what's to come in the new title.
Black Ops Cold War sees the popular, first-person shooter franchise return to Treyarch and the Black Ops universe. The clocks have been dialed back from the future to a Cold War setting. It is one of the most anticipate releases in the franchise's history after mixed reviews surrounding Modern Warfare. The multiplayer side of its predecessor was underwhelming, but Warzone became a smash it among CoD and battle royale fans.
Warzone will remain integrated with Black Ops Cold War and still be the flagship BR mode in the franchise after it followed Black Ops 4's Blackout.
Call of Duty: Black Ops Cold War Season 1 Roadmap Revealed
The Season 1 roadmap was released detailing what's to come in BOCW. The first major announcement is the return of Nuketown now set in 1984. The close-quarters map has been a staple of the Black Ops franchise and it is back once again.
Next, more multiplayer maps and modes plus new weapons are set to be added. The two things that caught players' eyes were the return of Gunfight in a Call of Duty title and a classified Warzone experience.
The latter remains, well, classified, but Gunfight is returning from Modern Warfare. The game mode was received well among players as it was first introduced and most should be excited to see it return in BOCW.