Call of Duty: Black Ops Cold War Season 2 Reloaded Announced, Releases March 30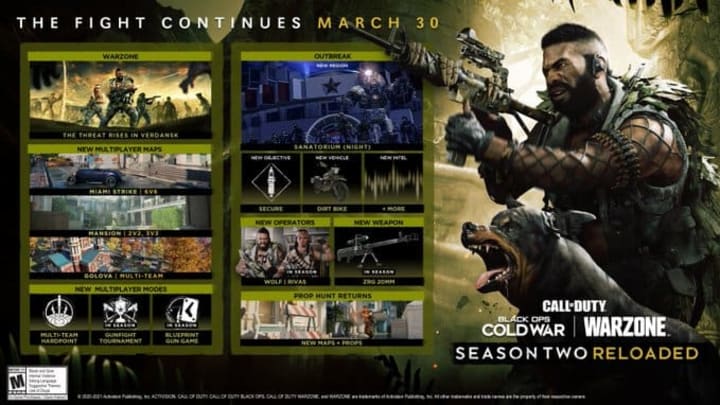 Photo by Activision/Treyarch
Call of Duty: Black Ops Cold War Season 2 Reloaded was announced for March 30 as fans prepare for the mid-season update.
Black Ops Cold War Season 2 Reloaded is headlined by three new multiplayer maps, new multiplayer modes, a new sniper rifle, a new Zombies experience and something coming to Warzone. The Warzone update is simply described in the promotional graphic as, "The threat rises in Verdansk." Additionally, major weapon tuning arrives for multiplayer and the Gunsmith Customs feature will allow players to mix-and-match attachments from different blueprints together.
Call of Duty: Black Ops Cold War Season 2 Reloaded Announced, Releases March 30
Season 2 Reloaded includes three new maps: Miami Strike. Mansion and Golova. Each map offers something different for multiplayer, Face-Off and the new Multi-Team modes. Activision and Treyarch announced a Multi-Team Hardpoint mode that's sure to tie into the new Golova map. Additionally, Gunfight Tournaments will return sometime during the mid-season update.
The new sniper, the ZRG 20mm, also arrives in-season. "Boasting a higher bullet velocity than any other weapon in its class, the ZRG 20mm sniper rifle is built to excel in extremely long ranges. Operators will appreciate its fast reload speed and its ability to eliminate enemies with a single shot to the head, chest, or shoulders," Activision and Treyarch sad in the Call of Duty blog post.
Another major announcement is a file size reduction for Modern Warfare and Warzone. For those who only have the free-to-play version of Warzone, PS4 and PS5 owners will have their file sizes reduced to just under 11 GB. Xbox One, Series X and S owners clock in at 14.2 GB and PC players come in at 11.8 GB.
For more information on Season 2 Reloaded, check out the official blog post here.