Call of Duty Haunting of Verdansk Event Debuts Oct. 20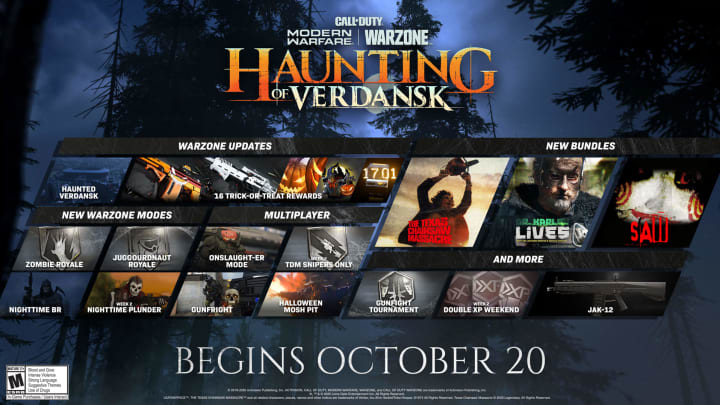 The gulag will be the least of Warzone players' fears very soon. / Photo courtesy of Infinity Ward
The gulag will be the least of Warzone players' fears very soon.
Call of Duty's Haunting of Verdansk event drops in Modern Warfare and Warzone tomorrow, offering tons of spooky content in the form of a revamped variant of Verdansk at night, special rewards, limited-time modes and cosmetic bundles, including collaborations with the SAW and The Texas Chainsaw Massacre film franchises.
Call of Duty Haunting of Verdansk Event Debuts Oct. 20
The Modern Warfare and Warzone store will release bundles featuring iconic villains, such as Billy the Puppet and Leatherface, decked out with unique blueprints and personalization content that should do justice for big fans of horror films.
In Warzone, Verdansk has been revitalized in certain game modes with a nighttime backdrop that claims to cater well to those who equip thermal optics and the Cold Blooded perk in their loadouts. Additionally, the map has been littered throughout with scary Easter eggs to be discovered, and specially marked "Trick-or-Treat" supply boxes which either scares players or gifts them with one of 16 different rewards that can be collected to unlock a Legendary Assault Rifle blueprint.
Additionally, Warzone will have a Zombie Royale LTM added, which includes the use of a zombie mechanic that replaces the Gulag system for defeated players.
In Modern Warfare multiplayer, those who get three kills in one life will have their operator's head turned into a jack-o-lantern, which also catches fire if they reach ten kills. Additionally, there are plenty of Halloween-themed additions in multiplayer, such as scarecrows on Domination points instead of flags. Onslaught-er and Snipers-Only are two game modes that will also be added.
The Haunting in Verdansk event will take place in Call of Duty: Modern Warfare and Warzone from Tuesday, Oct. 20, to Tuesday, Nov. 3.