Call of Duty League Cancels Homestands Amid Coronavirus Concerns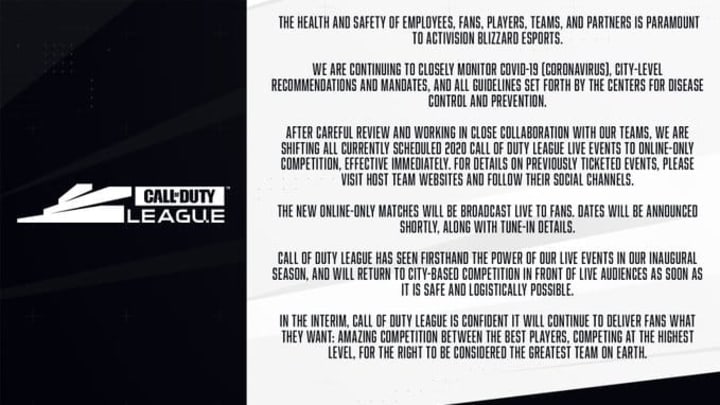 The Call of Duty League will be played online for the rest of the season. / Photo by Call of Duty League
The Call of Duty League announced Thursday that the league will be completed online after the suspension of homestand events amid COVID-19 (coronavirus) concerns.
Call of Duty League Announces Cancellation of Homestands Amid Coronavirus Concerns
"After careful review and working in close collaboration with our team,s we are shifting all currently scheduled 2020 Call of Duty League live events to online-only competition, effective immediately," the CDL said in an announcement.
"The new online-only matches will be broadcast live to fans. Dates will be announced shortly, along with tune-in details."
Teams around the league posted their own statements about homestands and where to find refunds.
The Call of Duty League followed suit with Blizzard's Overwatch League who cancelled March and April events. The LCS and LEC also announced the spring splits will be completed behind closed doors.