Call of Duty Spectre Rising: New Operation Arrives in Black Ops 4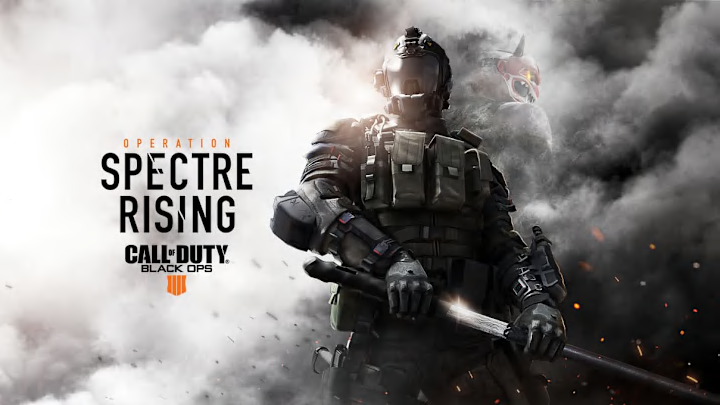 Call of Duty Spectre Rising went live Tuesday as a new Operation began in Black Ops 4. Operation Spectre Rising follows suit with previous events adding a load of new content and a new multiplayer Specialist.
Multiplayer isn't the only facet of Black Ops 4 that Spectre Rising focuses on bringing new content to battle royale mode Blackout and the patented Zombies mode.
Here's everything you need to know about Call of Duty: Black Ops 4 Operation Spectre Rising.
Call of Duty Spectre Rising: New Operation Arrives in Black Ops 4
Here is everything added to Black Ops 4 in Operation Spectre Rising per the patch notes post on Reddit:
Multiplayer
New Specialist: Spectre
New Maps: Masquerade, Artifact, WMD
New Game Mode: Prop Hunt (releases May 3)
Tuning changes for SMGs, Specialists and Scorestreaks
Blackout
Wetworks: Hydro Dam has been sabotaged and the map has flooded
Alcatraz: Improvements to gameplay flow and layout
New Game Mode: Bounty Hunter
New Equipment: DART
Zombies
New Gauntlet: "Super Blood Wolf Moon"
New Mystery Box Weapon: Tigershark LMG
New Feature: Classic Elixir Restock
Global
New Customization Items: Death Effects, Weapon Charms
New Weapons: Tigershark LMG, Nifo'Oti Melee Weapon
New Mastercrafts, MKIIs and Camos
New Specialist Outfits, War Paints, Gestures and Jump Packs.
For more detailed information on the the rest of the patch, check out the official patch notes.
Photo courtesy of Treyarch/Activision