Call of Duty
Call of Duty Vanguard Could See an Attack on Titan Collaboration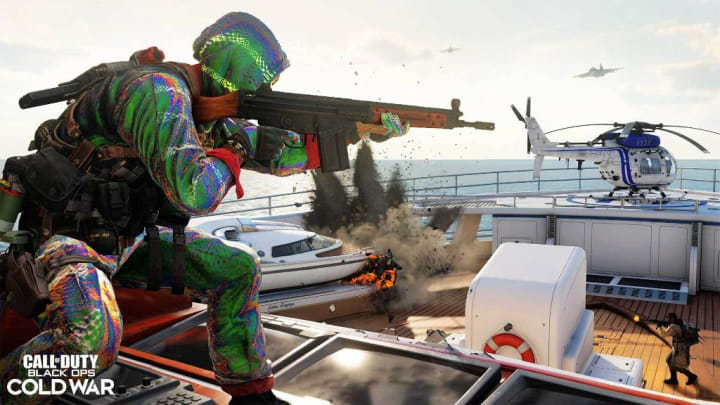 A few lines of code in a recent Call of Duty (COD) Vanguard leak have sparked rumors of another pop culture collaboration within the franchise. / Activision
A few lines of code in a recent Call of Duty (COD) Vanguard leak have sparked rumors of another pop culture collaboration within the franchise.
As fans may already be aware, this isn't exactly a new step for the company. Activision is currently on the tail-end of it's seasonal Halloween event in Warzone this year which saw cameos from both Scream's primary antagonist, Ghostface, and Donnie Darko's Frank. Such appearances only seem to be more common as time goes on—for better or worse—resulting in a unique overlap for fans of both properties. According to a series of recent leaks, that could be the case for the 2013 anime, Attack on Titan.
Call of Duty Vanguard Could See an Attack on Titan Collaboration
The original Attack on Titan rumor was sparked via a tweet published by Nanikos (@_Nanikos_), a known dataminer for Call of Duty. Nanikos posted a screenshot of a section of code with names that heavily alluded to the anime.
"The most interesting one being a mention of a 'swordtitan' aswell as an 'aot_titan' operator," they wrote in their Nov. 7 tweet.
This was later "confirmed" by another leaker who managed to find the physical model for the sword item referenced in Nanikos' code dump. Drake Hurley (@DRAKEHURLEYYT) managed to uncover the model and originally posted it to Twitter—though that specific tweet seems to have disappeared.
Nanikos went on to attempt an animation test of some related animations using Polina as a model. Unfortunately, the animations ended up removing her head, but images of the character in an attack stance holding two swords are unmistakable.
The last leak in the series was posted on Nov. 8 and held a promise of an explanation video from Nanikos. It will likely concern all the Attack on Titan leaks and is intended to be posted sometime today.
DBLTAP currently cannot confirm the intention of Activision to hold the collab. Nor can we confirm a date, time, or details surrounding it.