Call of Duty
Call of Duty: Warzone 'The Pacific' Launch Trailer Goes Live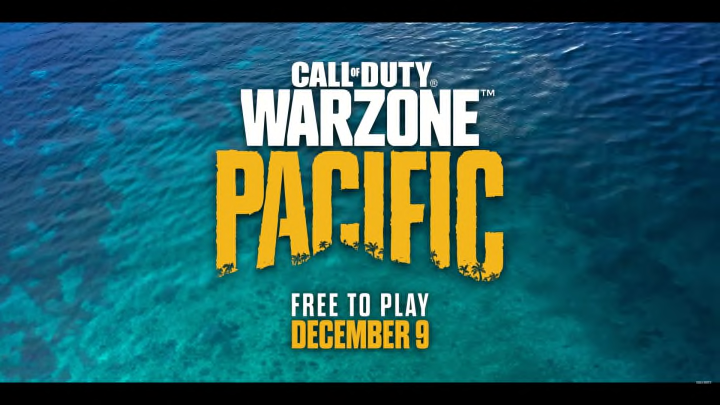 The latest Call of Duty (COD): Warzone trailer has officially dropped, depicting the brand new Pacific map in full, glorious detail. / Activision, Raven Software
The latest Call of Duty (COD): Warzone trailer has officially dropped, depicting the brand new Pacific map in full, glorious detail.
The trailer went live on the morning of Monday, Dec. 6, and was published to the verified Call of Duty YouTube channel. The nearly two-minute video showcased various points of interest on the new map including a lighthouse, seaside resort with various strewn towels and beach umbrellas, a tropical rainforest, the neighboring village, a highrise bridge, and more. Additionally, as per the aesthetic of Warzone, there were plenty of explosions and combat shots in the new landscape.
"Welcome to the Pacific."
Call of Duty: Warzone 'The Pacific' Launch Trailer Details
The trailer opened with various shots of biplanes, ATVs, blasts, and boots in motion on the ground. One operator kicks an opponent in the chest. The camera is met with the wooden butt of a rifle as a jump-cut to the new map's logo. Moments later an abrupt, pulled-back view revealed the entire island from a lifted point out in the surrounding ocean overlayed with a soft, upbeat music track.
Fans are able to see a variety of locations void of any other players or chaos.
A seaside resort building that looks as though it had just finished setting up for the vacation season - complete with beached boats, towels, umbrellas, cabanas, and an elaborate center fountain. The neighboring town of clean, bright stone with colorful accents contrasts sharply against the tropical foliage around it. A trolley system operates along a pre-determined track with an audible chime as it chugs along. Only a few yards away, a matching lighthouse sits elevated staring out at the sea.
In the jungle, a suspension bridge is available to carry players to and from civilization. Ruins of ancient civilizations may also be available to explore. Various pools of water, waterfalls, muddy tracks, cliffsides, and mountain views are visible throughout the trailer. It isn't until the camera pans over toward one such cliff that operators appear to run, drive, and dive over the side to avoid a hail of gunfire from a passing plane.
It appears that players will be dropped onto the island following damage to their dropoff plane. They'll be able to parachute as normal onto the map. Just be sure to watch out for the surrounding wildlife. After all, in Call of Duty, "Paradise is a Warzone."
The Pacific will go live on Thursday, Dec. 9. Those who purchased COD Vanguard will receive 24-hour early access to the map starting on Wednesday, Dec. 8.