Call of Duty
Call of Duty Warzone YouTube Creator Unveils 'Under the Radar' Shotgun Loadout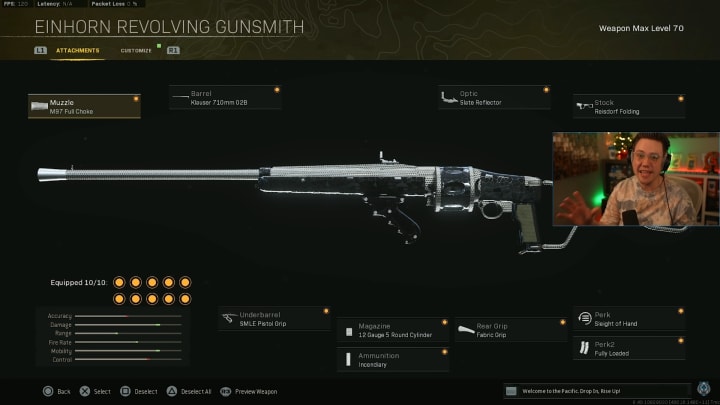 One Call of Duty (COD): Warzone Youtube content creator has revealed a lesser-known build that could rival the popular double-barrel shotgun. / Activision, WhosImmortal (YouTube)
One Call of Duty (COD): Warzone YouTube content creator has revealed a lesser-known build that could rival the popular double-barrel shotgun.
WhosImmortal uploaded a video to his YouTube channel on Saturday, Jan. 1, claiming his new loadout was the "most broken weapon" in the game to date. He claimed it was "better than akimbo double barrels"—the latest weapon discovered to be overpowered to the point it breaks the game.
WhosImmortal opened his video going over the various powerful weapons in Warzone until he eventually came to his build, something "a little bit more broken" and more "under the radar" than the popular double barrels alleging that it won't be as subject to a nerf.
"Under the Radar" Einhorn Revolving Shotgun Loadout
WhosImmortal's loadout takes advantage of all 10 available modification slots. This isn't uncommon, of course, as most builds as of Vanguard's release have followed suit in the new system. Its base is the Einhorn Revolving Shotgun and its attachments are as follows:
Ammunition: Incendiary
Barrel: Klauser 710mm 02B
Magazine: 12 Gague 5 Round Cylinder
Muzzle: M97 Full Choke
Optic: Slate Reflector
Perk: Sleight of Hand
Perk 2: Fully Loaded
Rear Grip: Fabric Grip
Stock: Reisdorf Folding
Underbarrel: SMLE Pistol Grip
According to WhosImmortal, this loadout is capable of one-shotting enemies at short range or, at the very least, shattering their armor.
"From that point on, it is just a world of hurt for the enemy," he said, "This thing is an absolute demon of a weapon...It's a two-shot max."
The results in the video speak for themselves. Pairing the Einhorn with the ever-popular Bren, WhosImmortal is able to showcase the weapon's true potential up close and do massive damage with additional points over time thanks to the Incendiary ammunition modification.