Pokémon
Can Murkrow be Shiny in Pokemon GO?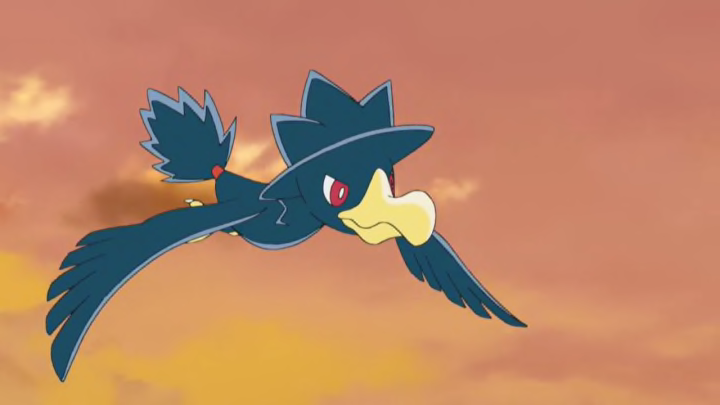 Murkrow is set to be the next Spotlight Hour Pokemon in Pokemon GO this month, October 2021. / Niantic Labs, the Pokemon Company
Murkrow is set to be the next Spotlight Hour Pokemon in Pokemon GO this month, October 2021.
Who better to pick for a spoopy Spotlight Hour than Murkrow—the corvid-like Pokemon quite literally named after a collection of real-world crows. From 6 p.m. to 7 p.m. on Tuesday, Oct. 26, trainers will be able to encounter Murkrow at a much more frequent rate in the wild. It also carries a chance to be shiny. Each Murkrow evolved will reward trainers with double the evolution experience during the event.
Shiny Murkrow in Pokemon GO
Yes, Murkrow can be shiny in Pokemon GO.
This Pokemon debuted with the primary Johto region release in February 2017. Its shiny variant was implemented over a year later in March 2018 as part of the April Fool's Day event. Obviously, this means its evolved form, Honchkrow, can also be shiny—debuting with both its typical and shiny color palette in November 2018.
Shiny Murkrow is exceptionally easy to tell apart from a normal Murkrow due to the fact it is a bright, saturated magenta instead of a dark navy. Its eyes, feet, beak, and band on its tail all remain the same. Honchkrow follows suit to the letter in that it keeps its bright crimson accents, black feet, and white neck ruff.
According to recent research, Murkrow is one of the few Pokemon that displays sexual dimorphism. Male Murkrow tend to have larger hat-like plumage atop their heads than females. It is still unclear what the reason is behind this—but, knowing birds, we can probably guess.
Murkrow is also known as the "Darkness Pokemon" and, like Absol, is "loathed" as a symbol of ill fortune. It is particularly attracted to shiny objects and has been known to steal jewelry right off a trainer's fingers if they aren't pay attention. Its PokeDex number is #198.
Trainers can evolve their Murkrow into a Honchkrow using 100 candies and a Sinnoh Stone.