Can Shinx be Shiny in Pokemon Go?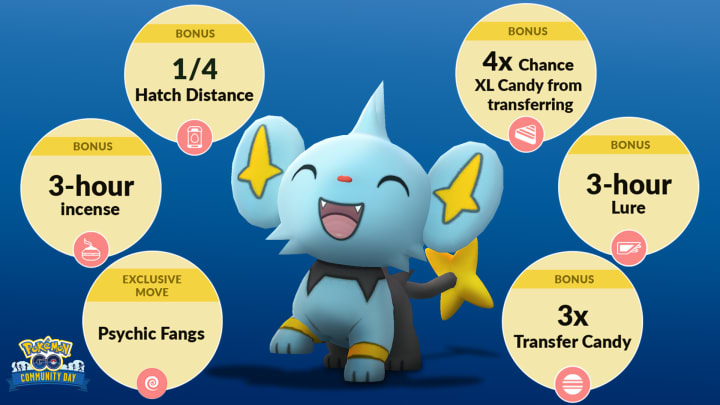 Pokémon GO trainers want to know if Shinx can be shiny during its Community Day today. / Niantic Labs
Pokémon GO trainers want to know if Shinx can be shiny during its Community Day today.
Today, Nov. 21, is Shinx Community Day. This adorable little electric-blue lion has stolen many trainers hearts as one of the first encounters in the original Sinnoh region main series titles, Pokemon Diamond and Pokemon Pearl. It's only fitting that, with the Sinnoh remakes Brilliant Diamond and Shining Pearl, that Shinx get its time in the limelight.
The biggest question is: what color will it be under that light?
Shiny Shinx in Pokemon GO
Yes, Shinx can be shiny in Pokemon GO. In fact, Shinx is one of the rare occurrences where both its normal and shiny variant were released on the same day: Oct 16, 2018. Since then, it has been featured in the Sinnoh Celebration in 2020, both 2020 and 2021 Fashion Weeks, and the Charge Up! Event.
It is not normally found in the wild but has been known to hatch from 7 k.m. Eggs.
Shiny Shinx replaces its cool sky blue main fur color for a sunny orange-gold. Its yellow and black accents remain the same, including its eye color.
Shiny Luxray in Pokemon GO
Fortunately, since Shinx is able to be shiny, both its evolutions—Luxio and Luxray—can be shiny, as well. They follow suit with Shinx in exchanging their cool blue fur for orange-gold. Its accents and eye color stay the same, as well.
Shinx is a Sinnoh native with a PokeDex number of #403. Also known as the "Flash" Pokemon, Shinx is able to make its fur dazzle and shine when it senses danger. Once its foe is blinded, it flees.
Trainers can evolve their Shinx into a Luxio and then Luxray using 25 and 100 candies, respectively.