Pokémon
Can Wooloo Be Shiny in Pokemon GO?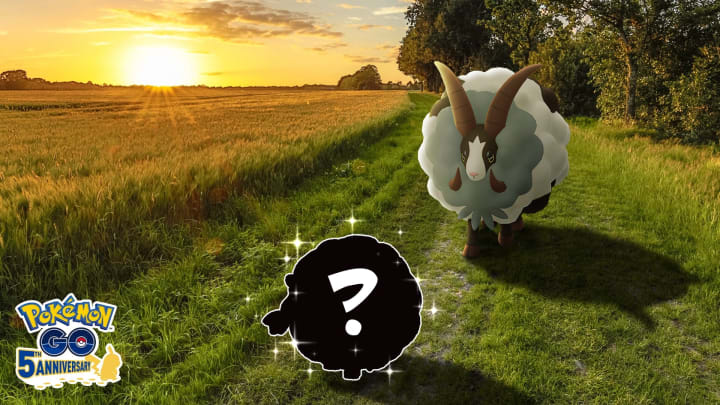 Trainers want to know: can Wooloo be shiny in Pokemon GO? / Niantic Labs
Trainers want to know: can Wooloo be shiny in Pokemon GO?
Wooloo is one of the breakout stars of the Galar region—and it's no surprise why. This lovable, spherical sheep has rolled its way into trainers' hearts since its debut in Pokemon Sword and Shield over a year ago. Now, trainers can catch an entire herd of the species during its Spotlight Hour tonight, Aug. 31, from 6 p.m. to 7 p.m., local time.
Shiny Wooloo in Pokemon GO
Unfortunately, Wooloo's shiny variant has yet to be released in Pokemon GO. Trainers will have to be content without their beloved literal black sheep.
Shiny Wooloo essentially flips its color scheme—trading white wool and black flesh for black wool and white flesh. Its hooves and horns also take a dark dive color-wise but keep their warm, reddish tone. Its eyes, nose, and braids also remain the same.
Wooloo was first released into Pokemon GO as part of the Pokemon GO Ultra Unlock Part 3 on Aug. 20, 2021. It can be found in the wild with a CP ceiling of 605-656 depending on the weather. As a normal-type, it can be boosted by partly cloudy weather.
Also fittingly known as the "Sheep" Pokemon, Wooloo is a native of the Galar region. It is best known for its extremely dense wool—often thick enough to act as cushioning if this Pokemon falls from a tall height and leave it unharmed. However, like real world sheep, regular sheering is important top its health as long fleece can prevent its proper movement. Its PokeDex number is 831. Trainers can prompt their Wooloo to evolve into Dubwool using 50 candies.