Top Games
Can You Preorder Rainbow Six Extraction?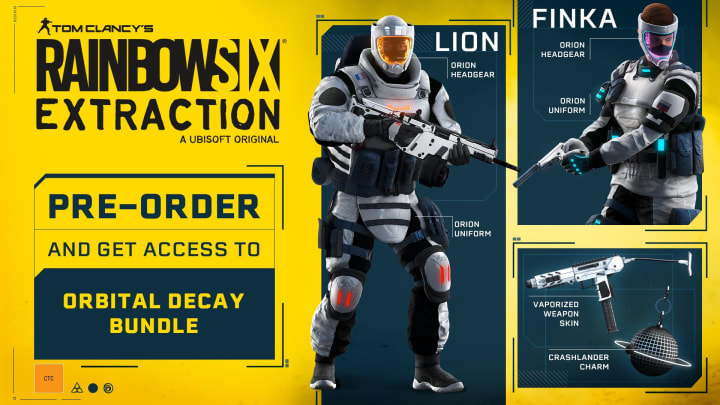 Rainbow Six Extraction, formerly known as Rainbow Six Quarantine, launches Sept. 16. / Photo courtesy of Ubisoft
Can you preorder Rainbow Six Extraction? 
After initially being known as Rainbow Six Quarantine, and making its gameplay reveal during the E3 Ubisoft Forward show earlier this month, the release date of Ubisoft Montreal's Rainbow Six Extraction has garnered a lot of excitement from fans new and old of the beloved tactical shooter franchise. Here's the latest for players anxiously awaiting the opportunity to preorder Tom Clancy's Rainbow Six Extraction.
Can You Preorder Rainbow Six Extraction? 
In anticipation of its Sept. 16 release date, Rainbow Six Extraction is ready to be preordered on PlayStation 5, PlayStation 4, Xbox Series X|S, Xbox One, Stadia and PC via Epic Games Store and Ubisoft Connect. The PS4 and Xbox One copies will also come with a free upgrade to their next-gen counterparts.
All players who pre-purchase the game will be rewarded with the bonus pack: Orbital Decay Bundle. The bundle includes Orion Headgear and Uniform pieces for Lion and Finka, the Vaporized Weapon Skin and the Crashlander Charm.
In addition to choosing between platforms and the digital or physical versions of the game, Rainbow Six Extraction also has a Deluxe Edition available for preorders at $79.99 compared to the standard one at $59.99. Rainbow Six: Extraction Deluxe Edition includes the following:
The Noxious Touch Pack: Includes the Noxious Touch uniform and headgear exclusively to Alibi, the universal Noxious Touch and Redeemer weapon skins along with the Jawbreaker and Guardian Angel Charm.
The Obscura Pack: Includes the universal Cephal Black and Cerulean weapon skins along with the Redacted and Anagram charms.
The REACT Strike Pack: Includes the Frontline Cosmetic Pack (includes Spectrum headgear, uniform and weapon skin, plus the REACT Lockjaw charm), XP Boosters for post-launch events and a 10% discount on the in-game store.
For more on Rainbow Six Extraction, feel free to check out of coverage of the highly anticipated title's crossplay features.