Carrasco FIFA 23 Challenges: How to Complete the Flashback TOTS Objective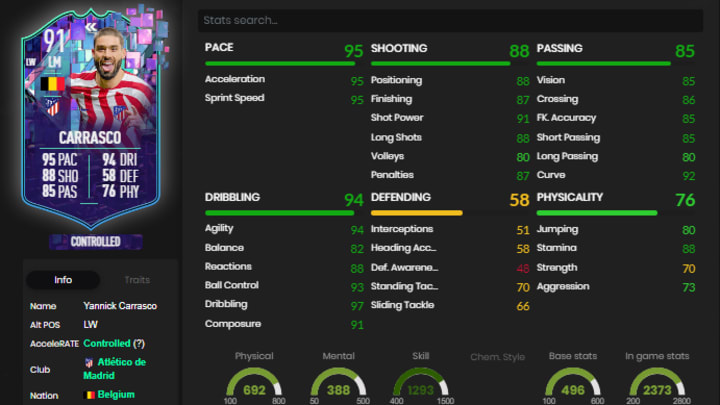 FUTBIN
Carrasco FIFA 23 challenges went live May 19 as a special Flashback objective set including two LaLiga Team of the Season cards as well.
Flashback Yannick Carrasco is the special objective set for LaLiga TOTS following the Bundesliga Year in Review. No riddles this time around, but there's five packs to earn, experience and three special items. As well, all objectives can be completed in FUT Champions, Rivals or Squad Battles making these more than accomodating for all players.
Carrasco FIFA 23 Challenges: How to Complete the Flashback TOTS Objective
Here's how to complete the FIFA 23 Flashback Carrasco objective set:
Simple Seven - Score seven goals using players from LaLiga - 1,250 XP, Gold Pack
Spanish Distribution - Assist in four separate matches with min. six Spanish players in your starting squad - TOTS Isi, Prime Mixed Players Pack
Goal Artist - Score in five separate matches with TOTS Isi in your starting squad - TOTS Pau Torres, Premium Mixed Players Pack
Ranged Sharpshooter - Score five goals from outside the box using LaLiga players - Small Prime Gold Players Pack
LaLiga Combo - Win eight matches with TOTS Isi and TOTS Pau Torres in your starting squad
Completing the full objective set will reward players with Flashback Carrasco. Remember, all objectives can be completed in Squad Battles against the AI, Rivals or FUT Champions. Choose the mode that best suits your time or difficulty level and get these done before they expire on May 26 at 1 p.m. ET.
All rewards earned are untradeable.