Catalyst, Mad Maggie Seem to be Perfect Loba Counters in Apex Legends Winter Express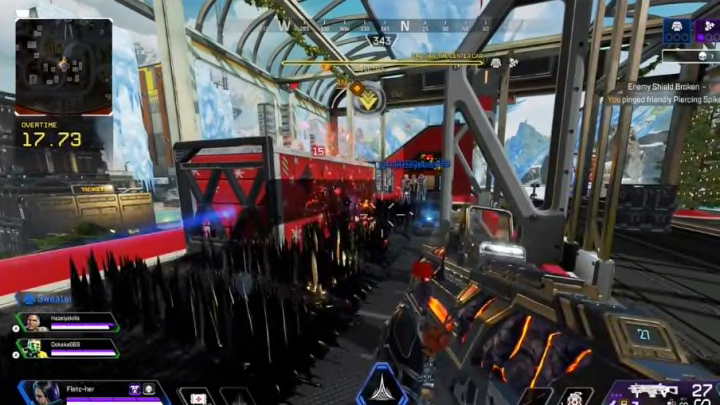 Respawn Entertainment
With the Winter Express limited-time mode (LTM) back in full force in Apex Legends thanks to the Wintertide Collection Event, it appears players have identified two characters that are exceptionally great picks at the moment — Catalyst and Mad Maggie.
Winter Express is Apex Legends' go-to LTM for the holiday season, inviting players to board and capture the World's Edge train decked out in Christmas decorations.
Unfortunately, despite it being the LTM's fourth straight year of returning to the fold for the holidays, it appears there remains a pretty broken spot that allows only Loba players to teleport into a fully enclosed container and block control of the train, impervious to any shots. However, with the kits of Catalyst and Mag Maggie, it appears players can finally counter the cheese.
As posted on the r/apexlegends subreddit by u/graveygrave on Wednesday, Catalyst's Piercing Spikes and Mad Maggie's Riot Drill can be used to cut out any broken antics exploited by Loba players in the Winter Express LTM.
In the comments, graveygrave mentioned that they seemingly spent over 40 minutes in one match to figure out the best combo to counter the Loba hiding spot.
"The sound of the spikes impaling that rat was music to my ears," MasterTron03 wrote.
"Maggie, Catalyst and Caustic are the perfect team for this mode," FBI_Agent_82 wrote.
Ultimately, for those who've run into any Loba players using the glitchy spot, feel free to try this method out to restore order.