CD Projekt Announces Three Witcher Titles, a Cyberpunk 2077 Sequel and a New IP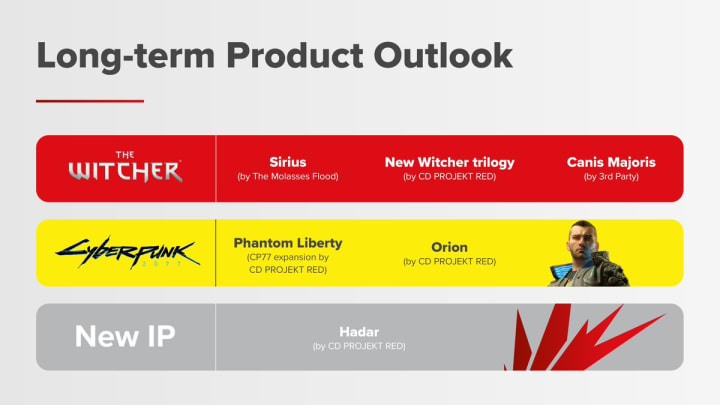 "Descriptions of individual projects have been reduced to a minimum and all projects have been codenamed." / CD Projekt
CD Projekt revealed the general outline of its long-term franchise development plans, including the codenames and descriptions of five upcoming titles.
The list includes three titles set in The Witcher universe, a Cyberpunk 2077 sequel and a new original IP.
Here are the five codenamed projects that the RPG maker has newly announced:
"Project Sirius": This game is said to currently be in pre-production, with The Molasses Flood leading its development with support from CD Projekt Red. The game will be set in The Witcher universe, and "targets a much broader audience" with multiplayer gameplay on top of a single-player experience.
"Project Polaris": This game is said to currently be in pre-production, with CD Projekt Red leading its development. The game will begin the new Witcher trilogy, a saga that is planned to be released during a six-year publishing cycle.
"Project Canis Majoris": This game is contracted to be developed by a third-party studio "under the supervision of experienced developers who have previously worked on Witcher games." The game is intended to use Unreal Engine 5 and the toolset created for Polaris.
"Project Orion": This game will be developed by CD Projekt Red's new North America studio, which will be comprised of the company's newly created Boston branch along with its existing Vancouver team. The game will "will further develop the potential embodied by this universe."
"Project Hadar": This game is said to currently be in the conceptual phase, and will be developed "100% internally." With its early conceptual work having said to have begun in 2021, this is set to be CD Projekt's first-ever entirely new universe developed from scratch. This will be CD Projekt's third standalone IP aside from The Witcher and Cyberpunk 2077.
Per CD Projekt's Oct. 4 Strategy Update presentation, one of the company's main goals is to establish three "unique, strong and enduring" franchises.
The following "strategic growth directions" were also listed as those that CD Projekt envisions to take in the coming years:
Further increase in production capabilities in order to provide more content to gamers with a prime focus on quality
Enhancing its game experiences with multiplayer features
Further development of its franchises, particularly with an ecosystem consisting of games, comics, TV series, movies, animations and more