CDL Major 3: 3 Storylines to Follow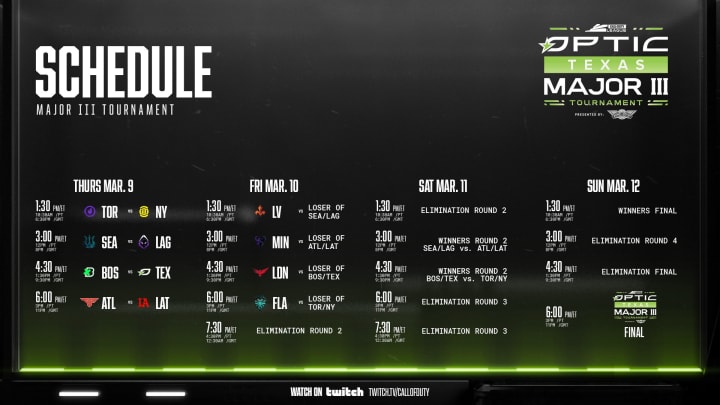 Call of Duty League Major 3 is full of storylines to follow. / Call of Duty League
The Call of Duty League Major 3 is packed with storylines surrounding certain teams, matchups, and ever-changing rosters.
As the 2023 season reaches its midpoint, the twelve CDL teams will travel to Arlington, Texas to compete for a share of the $500,000 Major 3 prize pool. Hosted by OpTic Texas, the upcoming major will be loud, unpredictable, and end with a new MW2 champion crowned.
Here's a breakdown of the three biggest stories heading into Major 3.
CDL Major 3: 3 Storylines to Follow
Minnesota Rokkr's Search and Destroy Struggles
After placing third at Major 2, Minnesota Rokkr went 0-5 in Stage 3 qualifiers. Even worse, they did so without winning a single Search and Destroy. After losing another Map 2 to the LA Thieves, Rokkr equaled the all-time CDL SnD losing streak at ten consecutive loses.
The team has a fast SMG in Marcus "Afro" Reid, but his supporting cast are often too slow around the map. Without proper mid-game adjustments and a more decisive play style, Rokkr will continue to struggle. Will they show some improvement on LAN?
Atlanta FaZe and Los Angeles Thieves Rivalry
Ever since the Los Angeles Thieves beat Atlanta FaZe four times on LAN to close out the Vanguard season, the two teams have had a brewing rivalry. They met again in the Grand Finals of Major 2, where FaZe enacted their revenge and took home the title.
Most recently, the two teams clashed over McArthur "Cellium" Jovel allegedly breaking a GA on Mercado Hardpoint in their Stage 3 qualifier match. Eight World Champions meeting in Winners Round 1 will be a must-see match, both for the elite gameplay and the high probability of some extra body shots.
OpTic Texas' New Roster on LAN
After Seth "Scump" Abner retired, OpTic Texas has had an up-and-down season. Already on their third roster, the fan-favorite team is looking to find some consistency and success in front of their home crowd.
Without Indervir "iLLeY" Dhaliwal, the team has struggled in high-pressure situations. His replacement, Daniel "Ghosty" Rothe, has been inconsistent in his first CDL matches. Can the new roster win their home major a second year in a row?
Major 3 kicks off on Mar. 9 at 1:30 p.m. ET.