ChocoTaco Catches PUBG Bots Spawning in the Middle of a Game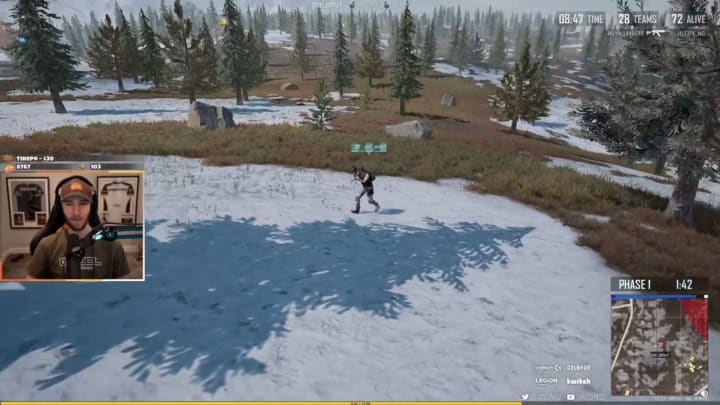 With the addition of bots in PLAYERUNKNOWN'S BATTLEGROUNDS and the backlash it has received from players and fans, ChocoTaco caught a bot spawning in the middle of a game during a Twitch stream.
Redditor u/Slykop4th cross-posted a clip from u/thelarkshark showing a game recording of Twitch streamer ChocoTaco, that shows a bot spawning in the middle of a game. Bots were introduced into the game with Update 7.1 and although it might have helped decrease match-making times and provided easy kills and funny clips, it has not been met with excitement.
Here is what happened:
ChocoTaco Catches PUBG Bots Spawning in the Middle of a Game
ChocoTaco spectates a match that can be seen to be eight minutes in and with 72 players left in the match. All of a sudden, a player, in this case a bot magically pops up onto the screen and starts running off.
The confusion behind this is that players have thought that bots dropped from the plane just like a player would but also the fact that the number of players remaining in the game is unchanged. Whether this is because the bots were already accounted for or not counted for after spawning brings a mist of confusion as it means players could face off more than 100 opponents.
Comments in both posts are just as shocked. One comment stated that they didn't spawn but instead were moved to be closer to players, whilst other players have seen it happen in quieter locations or seen bots jump out of the plane like many believed so.
Comments followed reiterating how the game sucks or has been going on a downhill trend as updates are coming in with one user even stating that this is rock bottom for the game and its developer PUBG Corp.
Bots should not be a distraction for a player in their quest to get a chicken dinner but if caught shooting a bot by another player, it does give away a player's position and also distracts them from a tougher opponent.