FIFA
Chris Willock FIFA 23: How to Complete the Rulebreakers SBC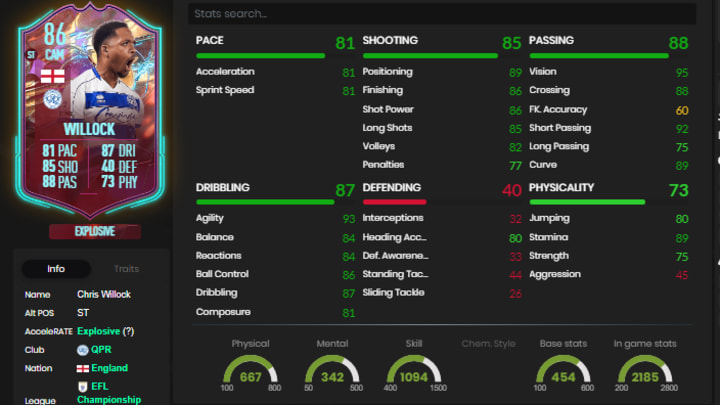 FUTBIN
Chris Willock FIFA 23 Rulebreakers SBC went live Oct. 26 during the Ultimate Team promotion.
Rulebreakers is an annual FIFA Ultimate Team event each October in which EA Sports upgrades players to change how they operate in game. The upgrades are based around the theme by reducing statistics in a certain area to facilitate for boosts in others. For example, a player with high pace might receive a small downgrade to that area in exchange for boosts in shooting and dribbling.
QPR player Chris Willock is the latest player to receive an SBC item during Rulebreakers Team 2.
Chris Willock FIFA 23: How to Complete the Rulebreakers SBC
Here's how to complete the FIFA 23 Rulebreakers Willock SBC:
One Segment
Number of Players from England: Min. 1
TOTW Players: Min. 1
84 Rated Players or Higher: Min. 1
Squad Rating: 83
No Chemistry Requirement
Number of Players in the Squad: 11
Rulebreakers Willock is a +13 overall upgrade on his silver item. He received a slight downgrade in pace, but major upgrades across the board. Players might not want to add this card to their FUT Champions teams either as a starter or substitute off the bench. A point to keep in mind though is that there will be EFL Championship objectives later in the year that players will want a usable squad for.
At around 20,000 coins to complete from scratch, this isn't a terrible card to store in your club for later objectives. Plus, the card has an extended availability period.
Rulebreakers Willock expires Jan. 20, 2023.