FIFA
Christopher Nkunku FIFA 22: How to Complete the Rulebreakers SBC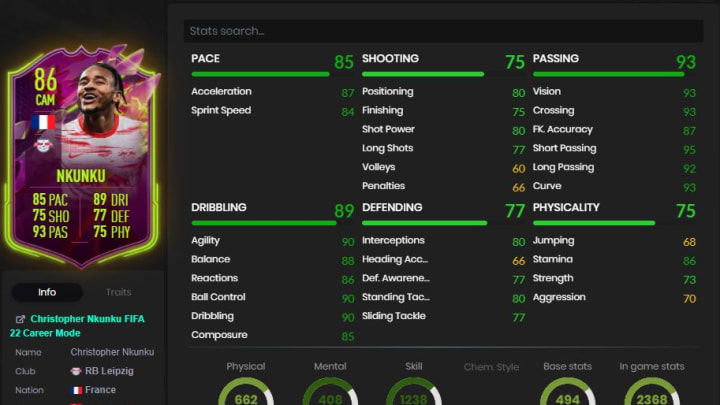 Here's how to complete the Christopher Nkunku Rulebreakers SBC in FIFA 22. / Photo courtesy of FUTBIN
Christopher Nkunku FIFA 22 Rulebreakers SBC was the first of the event and just like last season, allows players to pick between two new cards for the French Center Attacking Midfielder — one with better Passing and another with better Shooting.
Rulebreakers, now known traditionally as the promotion of the FIFA Ultimate Team calendar that drops towards the end of October near Halloween, officially kicked off Friday. Rulebreakers cards got rid of EA's Ultimate Scream promo and its full moon mechanic seen in years past to feature over a dozen monster stat upgrades to some of the sport's biggest names. Once again, these are permanent stat adjustments unlike live items, which upgrade whenever the player receives a performance-based upgrade. Those live upgrades include Team of the Week and Man of the Match items.
Christopher Nkunku FIFA 22: How to Complete the Rulebreakers SBC
Here's how to complete the Christopher Nkunku Rulebreakers SBC in FIFA 22:
Bundesliga Challenge
Minimum 1 player from Bundesliga
Minimum 1 player from Team of the Week (TOTW)
Minimum Team Rating of 85
Minimum Team Chemistry of 60
France Challenge
Minimum 1 player from France
Minimum 1 player from Team of the Week (TOTW)
Minimum Team Rating of 87
Minimum Team Chemistry of 55
Completing the Bundesliga Challenge will give players a Small Rare Gold Players Pack, while the France Challenge rewards a Prime Gold Players Pack.
Ultimately, the two 86 OVR Christopher Nkunku cards both have about the same stats in Pace, Dribbling, Defending, and Physicality, so the choice comes down to whether you'd rather have him be stronger in Shooting (blue and yellow jersey) or Passing (white and red jersey).
Christopher Nkunku FIFA 22: When does the SBC expire?
The Christopher Nkunku Rulebreakers SBC is set to run longer than the norm and expire on Saturday, Nov. 7, at 1 p.m. ET.