Call of Duty
COD Warzone Armaguerra Hipfire Build: Best Attachments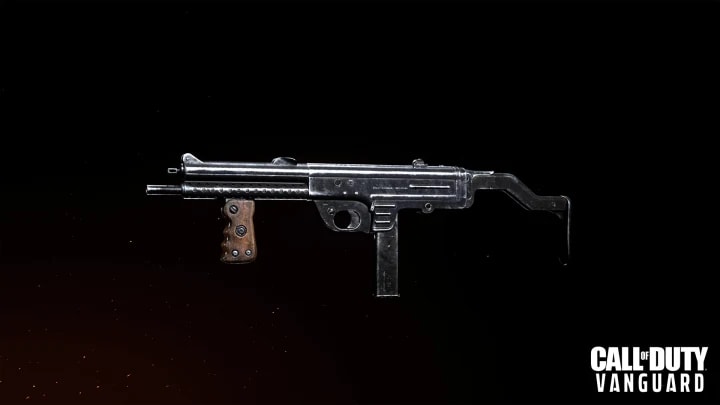 Photo courtesy of Sledgehammer Games
Here's our best Armaguerra hipfire build for Warzone.
Despite the Armaguerra receiving some nerfs after its dominance last season, the Vanguard SMG is still absolutely one of the best weapons in Warzone. WZranked has it listed as the best gun in the game currently, with a whopping pick rate of 8%, the highest among any other weapon in the game.
The Armaguerra also boasts a solid 1.17 K/D ratio and a decent 3.65% win rate, making it by far one of the most lethal Warzone weapons. The SMG is lethal at close and medium ranges, but some attachments will reduce mobility in favor of ADS speed. For players who play hyper-aggressive, here's our best hip fire build.
COD Warzone Armaguerra Hipfire Build: Best Attachments
The best hipfire build for the Armaguerra is as follows:
Muzzle: Recoil Booster
Barrel: Imerito 550MM 03P
Optic: Krausnick ISO 2M
Stock: Imerito TA Skeletal
Underbarrel: Carver Foregrip
Magazine: 9MM 60 Round Mags
Ammo Type: Lengthened
Rear Grip: Taped Grip
Perk 1: Vital
Perk 2: Quick
The SMG has the benefit of being a Vanguard weapon, so there's a ton of customization available to players compared to Modern Warfare guns and Black Ops Cold War guns. The build above excels in close-quarters situations, and limits recoil so players won't have to aim in extremely close situations.
The 60-round mag is a great attachment regardless of build due to Armaguerra's high fire rate. Using all 60 rounds can help players take out multiple opponents at once without reloading, which could be the deciding factor in winning your gunfight.
For those who love Rebirth Island and Fortune's Keep, we highly recommend this build for you the next time you drop into a match.