Commodore Warzone Blueprint: How to Get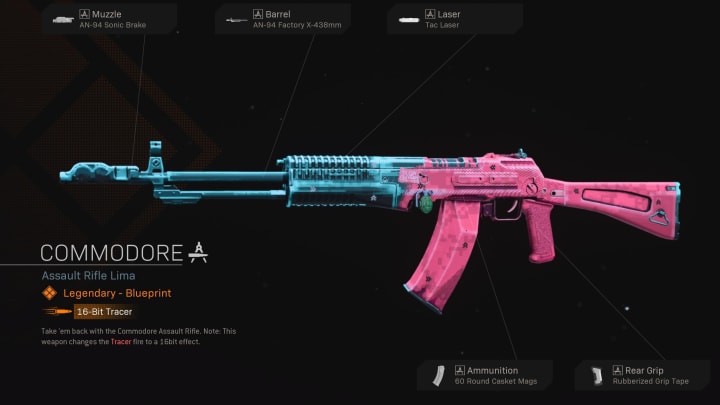 Commodore Warzone Blueprint is a Legendary AN-94 blueprint. It's part of the delightfully 80's 16-Bit Tracer Pack. Here's how to grab one or make your own for all of Modern Warfare's multiplayer modes.
Commodore Warzone Blueprint: How to Get
The pack costs 2,200 COD points and comes with cosmetics that'll make it feel like you've been sent back to the late 1980s. The weapons here are named after two iconic gaming machines, the Commodore 64 and Sega Genesis. In addition to these weapon blueprints, you'll get the Vorpal Blade knife, Boom Bits charm, Slip-On Out sticker, Clean Kills calling card, and the No Soap emblem.
Normally, you could just make the blueprint yourself without the fancy skin. This time, the skin adds a little something extra that makes the pack worth it: it gives your tracer shots a fancy 16-bit effect. If you want to try out this Commodore AN-94, you can make your own with the following attachments:
Commodore AN-94
AN-94 Sonic Brake
AN-94 Factory X-538mm
Tac Laser
60 Round Casket Mags
Ruberized Grip Tape
The attachments here give a boost in range and bullet velocity. Recoil is also handled well, with the trade-off of movement speed and ADS time. This build will excel in mid to far ranges, so be sure you have a closer range weapon like the Genesis P90 the pack also comes with.