Croesus Warzone Blueprint: How to Get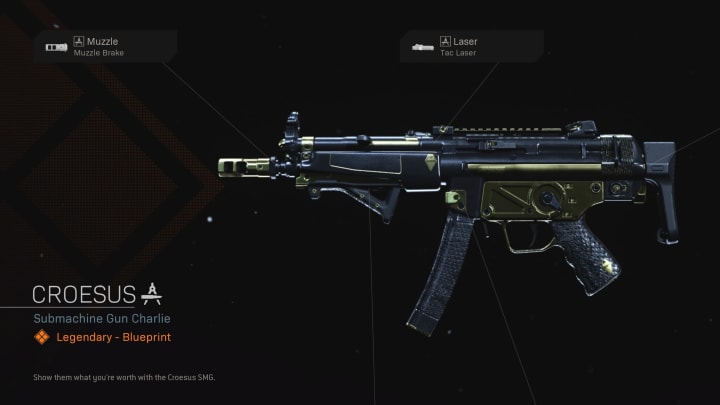 How to get the Croesus Blueprint in Warzone. / Photo by Infinity Ward
Croesus Warzone Blueprint is a Legendary MP5 Blueprint. Here's how to get your hands on this golden SMG for Modern Warfare's multiplayer modes.
You can get the Croesus MP5 in the Golden Scales pack in the shop. It'll run you 2,000 COD points. In addition to the Crassus MP5, you'll also get the Crassus .50 GS, Viper's Kiss knife, the Gilded Assassin Grinch operator skin, That is the End quip, Ancient Curse calling card and the Seal of the Serpent emblem.
The weapon skin features a luxurious snakeskin texture with gold accents.
Croesus Warzone Blueprint: How to Get
If you don't want to grab the whole pack, you can build your own Croesus MP5 if you know the attachments. You'll just miss out on the slick gold skin. Here's what you need to craft a Croesus for yourself.
Croesus MP5
Muzzle Brake
Tac Laser
FTAC Collapsible
Commando Foregrip
45 Round Mags
The Croesus is made for quick encounters, with a buff to hip firing and ADS time. The MP5 is long favored in Warzone, and this build is fairly standard for an MP5. The sprint to fire time doesn't get faster, but it's still versatile at close and medium range. It's hard to go wrong when you're rocking the MP5.