Cyberpunk 2077 Patch 1.3 Notes Explained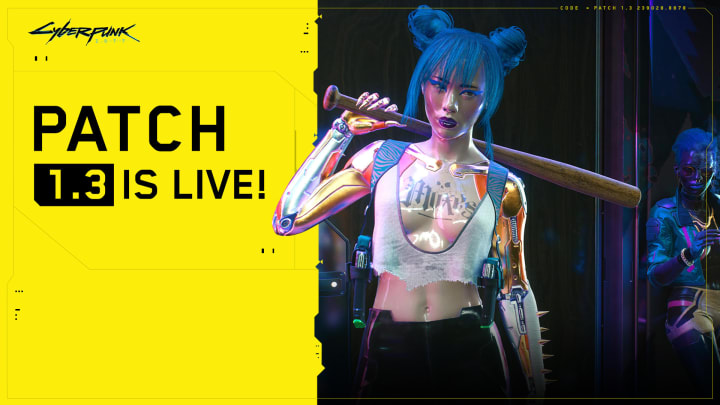 CD Projekt Red (CDPR) launched the next major patch for Cyberpunk 2077, including bug fixes, balance improvements, and free mini-DLCs. / CD Project Red
CD Projekt Red (CDPR) launched the next major patch for Cyberpunk 2077, including bug fixes, balance improvements, and free mini-DLCs.
For the first time since its more-than-difficult launch in December 2020, Cyberpunk 2077 officially has a set of small DLC enhancements players can enjoy. These have been released alongside Patch 1.3, which includes several improvements to the game and gameplay experience.
Below, we've broken down the major fixes and tweaks players will experience in Cyberpunk 2077 with Patch 1.3.
Cyberpunk 2077 Patch 1.3 Notes
Some most noticeable improvements to the game are:
Added a filter for quest items in the Backpack.
Added a button that allows reallocating the distribution of Perk points on a character's skill tree.
Improved the minimap's zoom level when driving, so that it's more zoomed out and easier to navigate.
Quest item tags from miscellaneous Job items will now be removed after finishing associated quests, allowing to sell or drop them.
Happy Together - Barry now has an updated, more unique appearance.
It's now possible to use an elevator while carrying a body.
The landmine icon will now be grayed out after disarming it.
It's now possible to upgrade crafting components in bulk.
There are also a good amount of rebalances that will impact gameplay, such as:
Detection time of enemies now depends on game difficulty.
NCPD will no longer react and turn hostile because of dead bodies in Open World activities.
NCPD will now also react to hitting NPCs with a non-lethal weapon.
Balancing of crafting specs for clothing mods.
Balancing the number of components required to craft clothing.
Balancing the number of components required to craft Sandevistan Fragments.
The level requirement of items will now increase with each upgrade.
Improved the Crafting system, so that items with Random quality scale their quality with player's Crafting skill.
Adjusted the damaging process when shooting crowd NPCs while in combat depending on distance and the weapon used.
Players will also no longer be troubled by the following bugs:
Fixed an issue where crafting specs from clothing stores were available only during the first visit to a vendor.
Fixed an issue where hacking a neutral target wasn't counted towards the Christmas Tree Attack achievement.
V will no longer holster a weapon after skipping dialogue while holding it.
V will no longer be stuck in a loop after skipping holocall dialogue while falling into water.
Fixed an issue where NPCs weren't reacting to distraction from TVs and cameras in The Heist.
Taking control of a camera while swimming will no longer break the UI, camera view and animations.
NPCs killed by a car elevator will no longer clip with it or pop up on its surface.
NPCs will no longer react by crouching to every gunshot.
Fixed an issue where some NPCs wouldn't run away from combat scenes.
Fixed an issue where V could be launched into the air when attempting to jump through or climb various terrains throughout Night City.
Fixed various map holes in Watson, City Center, Westbrook, Heywood and Santo Domingo.
GPS in Biotechnica Flats will no longer lead players to unreachable areas.
Fixed an issue where calls to quest NPCs would abruptly end, making the NPC appear in other calls and potentially breaking other holocalls from the NPC.
Fixed an issue in a shootout in Wellsprings where enemies were immortal because the trigger area was too small.

Additionally, several perks, abilities, and mod functionalities have been changed. These are:
"Hit the Deck" perk will now work properly on knocked down and staggered NPCs.
"Can't Touch This" perk will now grant the player immunity to Blind from their own flash
grenades.
"Crazy Science" perk will now properly increase the sale price of all items.
"Hacker Overlord" perk will now grant a recipe for the Epic Whistle quickhack.
Deadeye clothing mod now works properly.
Panacea and SuperInsulator clothing mods will now protect players against EMP Grenades.
Honorable mentions include:
It is now possible to rotate V in the Inventory with a mouse.
Added new sleeping spots for Nibbles in V's apartment.
Added a comparison tooltip for cyberware.
Increased stats of La Chingona Dorada (Jackie's iconic pistols).
Optical Camo cyberware will now be available for purchase from Ripperdocs.
V will no longer look down after using fast travel.
Fixed an issue where some NPCs wouldn't run away from combat scenes.
Players can no longer use frightened NPCs as human shields when a Police warrant is applied.
The full patch notes will all fixes, rebalances, and upgrades can be found on the official Cyberpunk 2077 website.
Cyberpunk 2077 Patch 1.3 is now live on consoles, Google Stadia, and PC.