Dance Macabre Warzone Blueprint: How to Get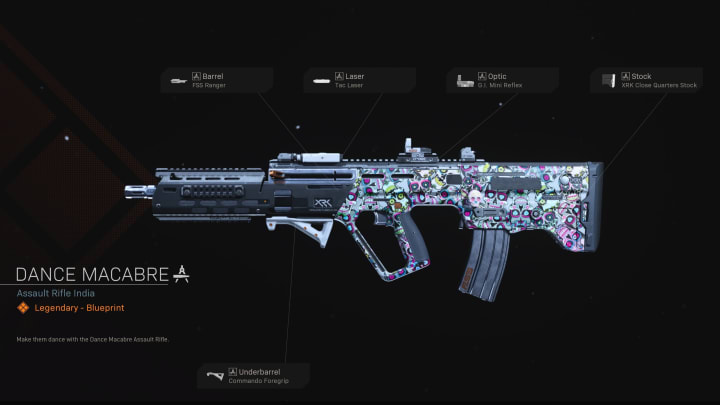 How to build the Dance Macabre Blueprint in Warzone. / Photo by Infinity Ward
Dance Macabre Warzone Blueprint is a Legendary RAM-7 you can get or build. Here's how to grab a Dance Macabre for yourself in Modern Warfare's multiplayer modes.
Dance Macabre Warzone Blueprint: How to Get
The Dance Macabre blueprint comes in the Día de Muertos operator pack for 1,600 COD points. Along with the RAM-7 blueprint, you get the Ofrenda Mace operator skin, Calavera charm, Fiesta calling card, Sacrifice emblem and Muertos spray.
The blueprint is adorned with sugar skull graphics on a sleek white and black body. You'll miss out on the sweet Day of the Dead deco, but you could give the blueprint a try by using the same attachments on your own RAM-7. Give it a try before you buy, so here's what you need to craft your own Dance Macabre:
Dance Macabre RAM-7
FSS Ranger barrel
Tac Laser
G.I. Mini Reflex optic
XRK Close Quarters Stock
Commando Foregrip
This build gives you some extra range and control at the cost of movement speed. Bullet speed gets a huge boost as well, making the Dance Macabre RAM-7 decisively deadly at medium range. The RAM-7 is one of the best weapons in the game, so you can't go wrong with however you choose to build it.