FIFA
Daniele Verde FIFA 22 Challenges: How to Complete the Moments Objective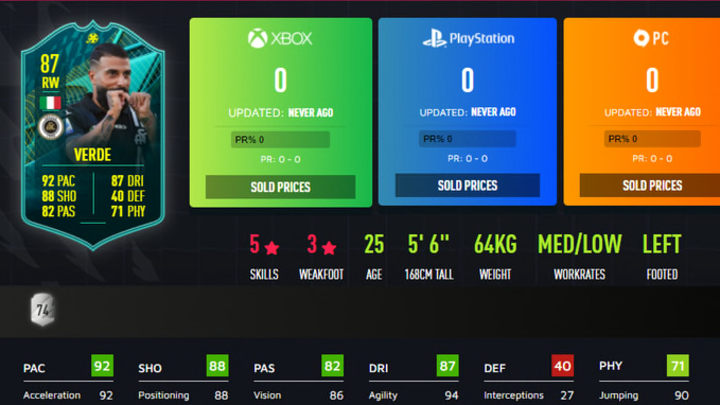 Photo by FUTWIZ
Daniele Verde FIFA 22 challenges went live Jan. 21 for Team of the Year after the card was leaked on social media.
Moments Verde went live during the Attackers portion of Team of the Year alongside a Flashback Harry Kane SBC item. EA Sports also dropped the first three Team of the Year items in FIFA 22: Robert Lewandowski, Kylian Mbappe and Lionel Messi.
Moments Verde received a +13 overall boost to his item from his 74 rated silver card.
Daniele Verde FIFA 22 Challenges: How to Complete the Moments Objective
Here's how to complete the Moments Verde objective set in FIFA 22, found in the Milestones tab:
Venomous Verde! - Score a Volley in the Live FUT Friendly: TOTY Talents
Skilled Scorer - Score three goals using Serie A players in the Live FUT Friendly: TOTY Talents
TOTY Triumph - Win four matches in the Live FUT Friendly: TOTY Talents
Serie A Streak - Score in 11 separate matches using players with min. four-star skill moves in the Live FUT Friendly: TOTY Talents
This is one of the easiest objective cards to complete this year in FIFA Ultimate Team. The only downside is that this is yet another Serie A winger. The nice thing is that TOTY Talents is a Max Chemistry playlist with no extra requirements. So, players can use whoever they want to complete this card.
Moments Verde expires in 14 days.