Danny Welbeck FIFA 22: How to Complete the Silver Stars SBC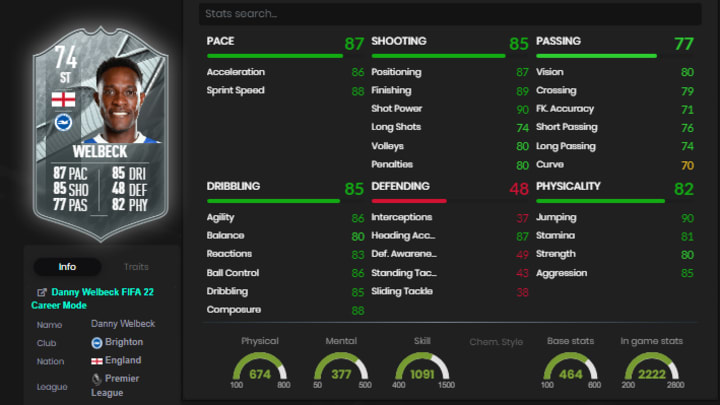 Photo by FUTBIN
Danny Welbeck FIFA 22 Silver Stars SBC went live March 1 as EA Sports continues to release special Silver items for this pseudo-promotion.
EA Sports has historically released special Silver cards for events like Team of the Week and more. After Road to the Final concluded, EA Sports introduced special Silver Stars cards and Flashback items for notable players so FIFA Ultimate Team players can upgrade their Silver squads. While Silver players are usually SBC fodder and objective items, some cards actually seem viable in Division Rivals and FUT Champions.
Danny Welbeck FIFA 22: How to Complete the Silver Stars SBC
Here's how to complete the Silver Stars Welbeck SBC in FIFA 22:
One Segment
# of Players from Premier League: Min. 1
Squad Rating: 82
Team Chemistry: 70
# of Players in the Squad: 11
Welbeck pairs nicely with other Silver items released so far including Kevin De Bruyne, Paul Pogba and Anthony Elanga. Promotional objectives, primarily Icon Swaps, require Silver cards for certain game modes, so fans might take this recent spree of Silver releases as foreshadowing for similar objectives coming out soon.
Plus, Manchester United and Arsenal fans might be compelled to complete this card for Past and Present squads.
Silver Stars Welbeck expires March 8.