FIFA
Darwin Nunez FIFA 22: How to Complete the Showdown SBC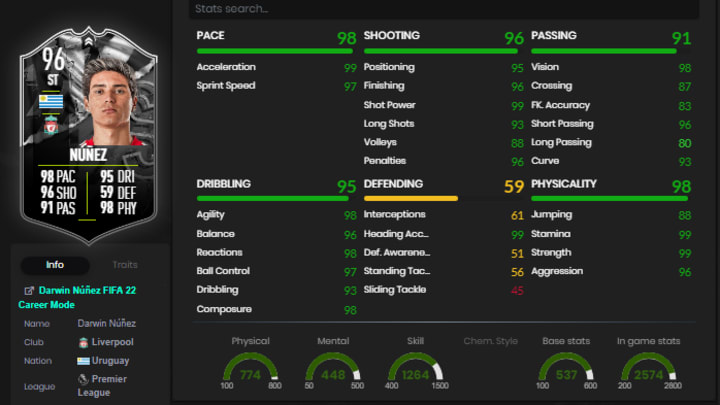 Photo by FUTBIN
Darwin Nunez FIFA 22 Showdown SBC went live Aug. 19 ahead of Liverpool's clash with Manchester United in the Premier League.
This SBC was supposed to be alongside the FIFA 23 Pre-Season promotion, but EA Sports had to delay the release of the event. Still, Showdown Nunez and Showdown Christian Eriksen were both released on schedule. Showdown cards highlight two players from an upcoming match and the corresponding player from the winning team receives an overall upgrade. If the two teams draw, both players receive a small upgrade. The player from the losing team doesn't receive an upgrade.
Darwin Nunez FIFA 22: How to Complete the Showdown SBC
Here's how to complete the Showdown Nunez SBC in FIFA 22:
Segment 1
# of Players from Liverpool: Min. 1
Squad Rating: 87
Team Chemistry: 50
# of Players in the Squad: 11
REWARD: Small Rare Mixed Players Pack
Segment 2
# of Players from Premier League
Squad Rating: 88
Team Chemistry: 40
# of Players in the Squad: 11
REWARD: Premium Electrum Players Pack
If Liverpool beats Manchester United, Nunez will receive a +2 overall boost going to 98 overall. Of course, Nunez won't be playing in the game after receiving a straight red card against Crystal Palace. But, considering the disarray United are currently in, Liverpool is a favorite coming in.
FIFA 22 is nearing the end, but fans might want to add yet another top item to squads and a transferred player at that for Pre-Season whenever it gets released. Plus, this SBC is cheaper than Eriksen.
FIFA 22 Showdown Nunez expires Aug. 22.