Davante Adams Joins the Exclusive Madden 99 Club in Madden 21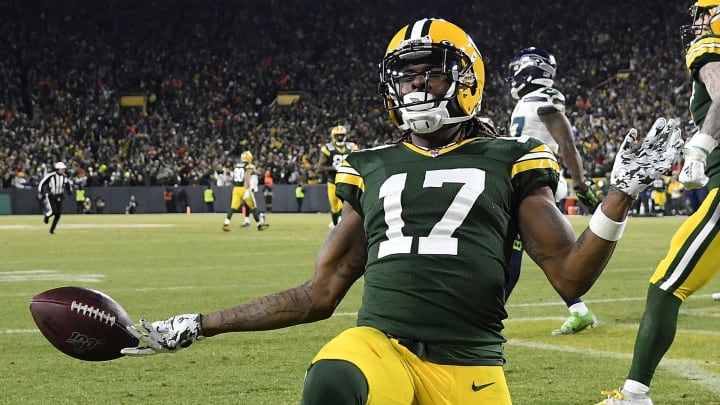 Davante Adams Joins the exclusive Madden 99 Club in Madden 21. / Quinn Harris/Getty Images
Davante Adams joins the exclusive Madden 99 Club in Madden 21.
We talked about Adams potentially joining the very exclusive Madden 99 club when we were reviewing his Madden 21 rating a couple of weeks ago, and now the Madden Ratings Adjustors finally came through and awarded Davante Adams with the 99 OVR rating.
Davante Adams Joins the exclusive Madden 99 Club in Madden 21
Adams, a four-time pro bowler, finished the regular season as the league leader in touchdown receptions (18), tied for second in receptions (115), and tied for fifth in receiving yards (1,374). He was an integral part of the Green Bay Packers' success this season as they finished with a 13-3 record and secured the No. 1 seed in the NFC earning a first-round bye in the playoffs.
Adams was presented with the honor from none other than his quarterback, Aaron Rodgers. Because of COVID protocols, the delivery had to happen via ZOOM call and the Packers posted a video of the change on their YouTube channel.
"I grew up loving Madden, I still love that game," Adams said. "I put in a lot of work for this, so I'm glad it's paid off and I'm glad that it's getting recognized."
Adams has had an incredible progression both on the field and in Madden 21 this season. In Madden 21, he started off Week 1 with a rating of 94. From there he has slowly worked his way up and established himself as one of the premier receivers in the game.
As of publication, Adams is the sixth player in Madden 21 to have the 99 OVR rating. It is a rating that is evaluated every week and is not permanent, though with the season he is having, Adams is in no jeopardy to lose his rating. He is the second wide receiver to be in the club, with Arizona Cardinals WR DeAndre Hopkins as the other. New Orleans Saints WR Michael Thomas was awarded the 99 OVR rating but has since dropped down to a 95 OVR based on the season and injuries that have hindered his performance.
Adams joined two Hall of Famers in Randy Moss and Cris Carter as the only three wide receivers in the history of the NFL to have over 100 receptions and 16 touchdowns in a single season. This goes to show how truly deserving of the honor he really is.
While the goal of a Super Bowl is the sole focus of Adams and his Packer teammates, it has to feel good that all the work and sacrifice is starting to get recognized.