FIFA
Davy Klassen FIFA 23: How to Complete the World Cup Showdown SBC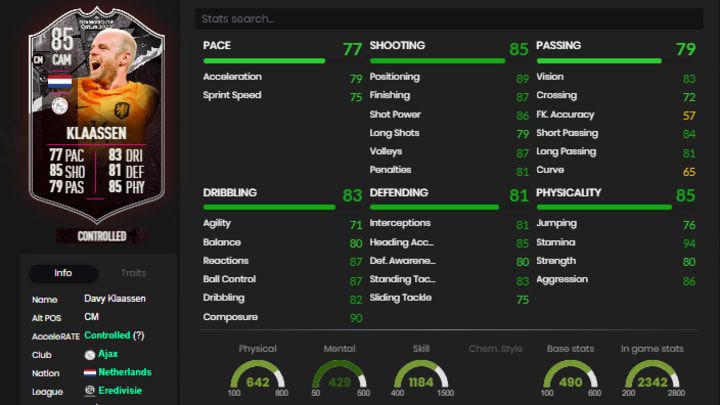 FUTBIN
Davy Klassen FIFA 23 World Cup Showdown SBC went live Nov. 18 as the first of its kind during the World Cup promotion.
Showdown items have arrived in FIFA 23 with a World Cup theme. Showdown SBC cards receive initial upgrades and then upgrade again depending on a real world result. The player from the winning team receives a +2 overall upgrade. The player from the losing team does not receive an additional upgrade. If the two teams draw, both players receive a +1 overall upgrade.
Netherlands faces off against Senegal in the World Cup group stage and is spotlighted in the first World Cup Showdown SBC set. RB Leipzig's Abdou Diallo and Ajax's Davy Klassen received special items available for a limited time
Davy Klassen FIFA 23: How to Complete the World Cup Showdown SBC
Here's how to complete the FIFA 23 World Cup Showdown Klassen SBC:
One Segment
Netherlands Players in the Squad: 1
84 Rated Players or Higher: Min. 2
Team of the Week Players: Min. 1
Squad Rating: 83
No Chemistry Requirement
Players in the Squad: 11
Klassen's special card can play CAM or CM, but it doesn't necessarily look like a must-complete compared to other SBCs already released. Netherlands should be the favorite over Senegal following Sadio Mane's injury, but players must take into consideration the real world match before completing this SBC.
As well, there are simply better options available. Unless players are stashing this card for future Eredivisie objectives, players should look at Abdou Diallo if they want to complete one of the two cards.