Dead by Daylight Blue Glyph Explained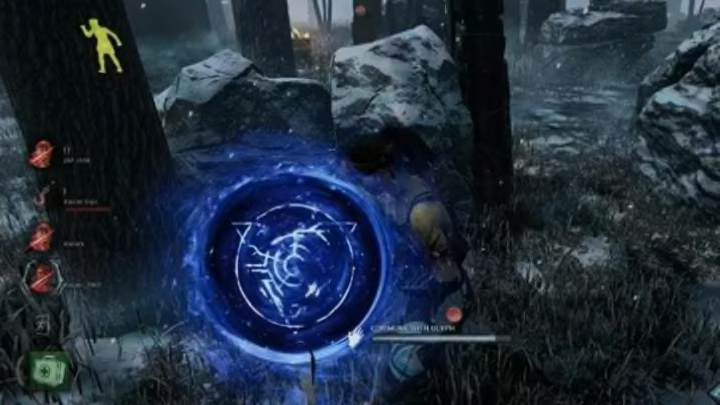 Photo by Behaviour Interactive
Dead by Daylight has its own version of a battle pass, challenging players with certain tasks during matches, and having certain glyphs scattered around the map. To no one's surprise, Behaviour Interactive made separate glyphs for both killers and survivors.
Some of the colors also are linked to a certain Tome.
Photo by Behaviour Interactive
Dead by Daylight Blue Glyph Explained
Players can still be on a certain Tome, so they'll still see a Blue Glyph. Here are the perimeters for the glyph.
Blue Glyph
The Glyph Communer and Glyph Escapee Challenges are only available to Survivors.
Interaction time: 3 seconds
Visibility range: 10 meters
Penalty duration: 60 seconds
"After communing with a Blue Glyph, the Survivor suffers from either the Blindness or the Oblivious status effects. If the Challenge is Glyph Escapee, the Survivor must escape the Trial in addition to communing with the Blue Glyph to complete it."
For those paying attention to the current state of the game, Behaviour Interactive recently disabled the Clown due to an unattended increase to his movement speed. While the Clown isn't the most popular killer, there has been a lot more variance since the nerfs to multiple survivor perks.