Dejan Kulusevski FC 24: How to Complete the Showdown SBC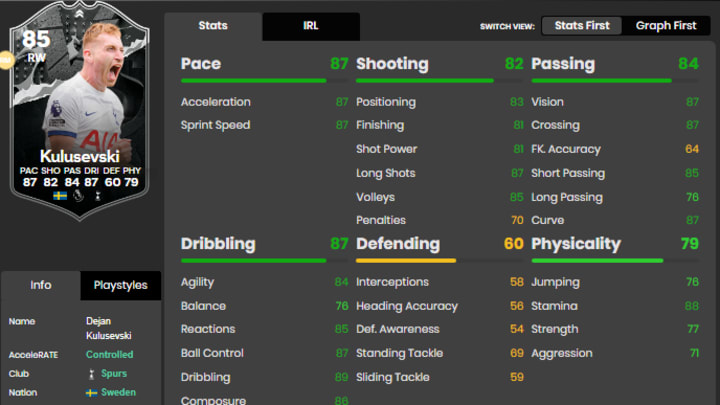 FUTBIN
Dejan Kulusevski FC 24 Showdown SBC is now live in Ultimate Team during Centurions giving players a decision to make based on a real life matchup.
The first Showdown SBCs of FC 24 are here with Tottenham Hotspur taking on Chelsea in the Premier League on Monday, Nov. 6. As such, EA Sports released player SBCs for Spurs' Kulusevski and Chelsea's Mykhailo Mudryk. Showdown SBCs receive upgrades at launch and then are eligible for further upgrades depending on the real world result. If the player's team wins the match, that player item receives a +2 overall boost. If the two teams draw, both players receive a +1 boost. The player from the losing team does not receive an upgrade.
Dejan Kulusevski FC 24: How to Complete the Showdown SBC
Here's how to complete the FC 24 Showdown Kulusevski SBC:
One Segment
Premier League Players: Min. 1
Team of the Week Players: Min. 1
Squad Rating: 86
No Chemistry Requirement
Players in the Squad: 11
Now, some players might already have Kulusevski upgraded through Evolutions, but this card is probably worth it for Spurs fans. Tottenham is in great form to start the season currently unbeaten. Chelsea has struggled all season long, though of course anything can happen in a London derby.
Considering Tottenham's chances in the match, Kulusevski being cheaper overall than Mudryk as well, and comparing the two cards, Kulusevski looks like the one to complete. Though, just take into consideration that there is the Showdown variable attached.