Top Games
Destiny 2 Season of the Chosen Seasonal Challenges Explained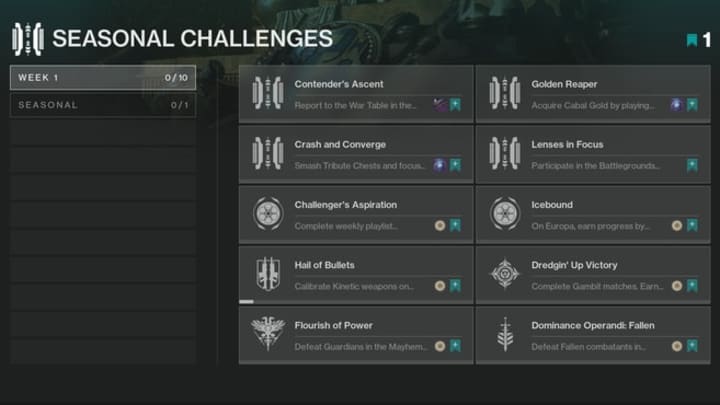 The first batch of Seasonal Challenges just went live / Photo Courtesy of Bungie
Destiny 2's Season of the Chosen Seasonal Challenges will replace weekly challenges. But how will they function, and what are the incentives for completing them? That's what we'll be explaining today.
Destiny 2 Season of the Chosen Seasonal Challenges Explained
Why have they replaced Weekly Bounties?
Many players have long complained about the monotonous nature of weekly bounties, so Bungie is introducing Seasonal Challenges as a way to make Destiny feel more alive and less like a bounty simulator. Another benefit of Seasonal Challenges is the fact that unlike bounties, they don't have to be picked up from vendors, as they're technically a triumph.
Examples of Seasonal Challenges
Every Week 10, new challenges are released and they all ask players to do different things and can vary in difficulty. For example. the first seasonal challenges were released Tuesday and the variance is clear. Some of the challenges relate to the Seasonal activity and ask players to focus Seasonal Engrams and take part in the Battlegrounds quest. Other challenges ask players to do basic things, such as complete playlist activities. There are also those that ask players to visit Europa and complete tasks there. The challenges ask players to take part in multiple different activities, likely with the intent to make players experience as much of the game as possible.
What are the rewards for completing Seasonal Challenges
The Wartable is a new reputation system that can be accessed in the H.E.L.M. / Photo Courtesy of Bungie
The rewards correspond to the challenges completed. The easier challenges usually just give XP to help complete the season pass. As the difficulty of the challenge increases, however, so do the rewards. Harder challenges will give bright dust as well as War Table Reputation, a new Seasonal currency that can unlock new mods or improve your Hammer of Proving. Some of the lengthier quests can also grant players new seasonal weapons. It's unknown what the hardest challenges, like completion of Grandmaster Nightfalls, will grant, but players should expect the rewards to be hefty.
Seasonal Challenges certainly look like an improvement over the mundane weekly bounties, but only time will tell what impact they'll really make in the future of Destiny.