FIFA
Diego Carlos FIFA 22: How to Complete the Player Moments SBC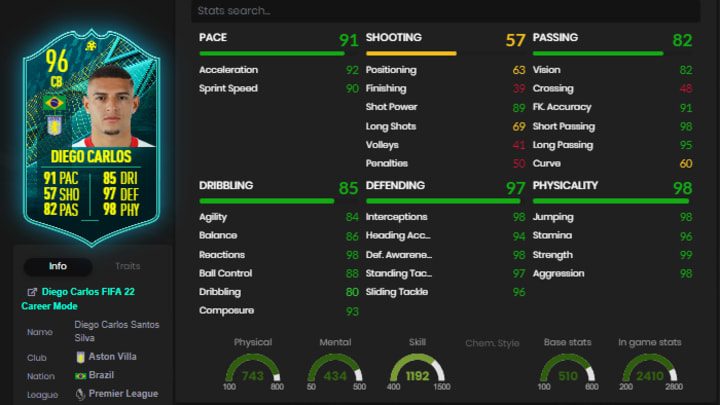 Photo by FUTBIN
Diego Carlos FIFA 22 Player Moments SBC went live during FIFA 23 Pre-Season celebrating one of the big transfers of the summer.
Diego Carlos rose to prominence as a defender for Sevilla and he's become a fan-favorite in FIFA Ultimate Team recently. Diego Carlos moved to Premier League side Aston Villa over the summer and his new FIFA 22 SBC celebrates that move. It might not be the most exciting release following Renato Sanches and Antonio Rudiger, but perhaps some of these new cards come into play for Pre-Season objectives later in the promotion.
Diego Carlos FIFA 22: How to Complete the Player Moments SBC
Here's how to complete the FIFA 22 Moments Diego Carlos SBC:
Segment 1
# of Players from Brazil: Min. 1
TOTW or TOTS Players: Min. 1
Squad Rating: 87
Team Chemistry: 55
# of Players in the Squad: 11
REWARD: Premium Mixed Players Pack
Segment 2
# of Players from Premier League: Min. 1
Squad Rating: 88
Team Chemistry: 50
# of Players in the Squad: 11
REWARD: Small Rare Gold Players Pack
Moments Diego Carlos is 96 rated and has strong defending and physical stats. He does lack a bit of pace compared to certain endgame items, but he also provides valuable Brazilian links to players like Marquinhos, Renan Lodi, Casemiro and more.
Moments Diego Carlos expires Sept. 5.