Divock Origi FIFA 22: How to Complete the Showdown SBC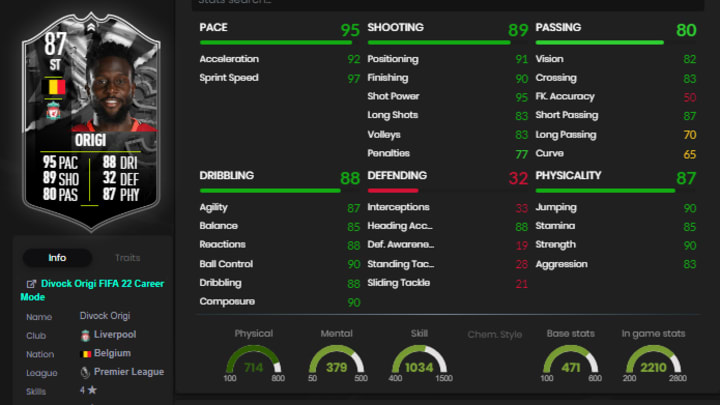 Photo by FUTBIN
Divock Origi FIFA 22 Showdown SBC went live Feb. 23 during the Road to the Final promotion highlighting the upcoming EFL Carabao Cup final between Liverpool and Chelsea.
This is the second Showdown SBC released in a five-day span after EA Sports released Showdown cards for Eric Bailly and Rodrigo De Paul ahead of Manchester United vs. Atletico Madrid in the Champions League. EA Sports gave a special card to Divock Origi as the representative of Liverpool while Mason Mount represents Chelsea.
Showdown items are dependent on the real life outcome for further boosts. If Liverpool wins the Carabao Cup, Origi will receive a +2 overall boost. If Liverpool loses, Origi will stay 87 rated while Mount gets upgraded.
Divock Origi FIFA 22: How to Complete the Showdown SBC
Here's how to complete the Showdown Origi SBC:
Segment 1
# of Players from Liverpool: Min. 1
Team of the Week Players: Min. 1
Squad Rating: 83
Team Chemistry: 80
# of Players in the Squad: 11
REWARD: Small Prime Electrum Players Pack
Segment 2
# of Players from Belgium: Min. 1
Squad Rating: 85
Team Chemistry: 65
# of Players in the Squad: 11
REWARD: Rare Mixed Players Pack
Origi is fairly well priced for what you're getting right now. He's got good pace, strong shooting and physicality stats with decent dribbling and passing for a striker. Plus, he's got four-star skills and weak foot. If this card gets the +2 upgrade, you're looking at a top-tier striker for Premier League squads.
Showdown Origi expires Feb. 26.