Djibril Sow FIFA 22: How to Complete the FUTTIES SBC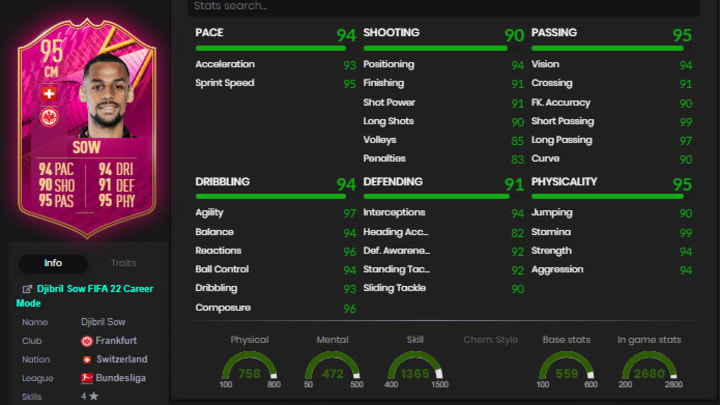 Photo by FUTBIN
Djibril Sow FIFA 22 FUTTIES SBC went live July 28 during 'Best of' Batch 2.
Sow, a Swiss midfielder for Bundesliga club Eintracht Frankfurt, was a surprise fan-favorite in FIFA 22. He received a Winter Wildcard SBC item back in December and was one of the most popular defensive midfielders in the game. Especially considering how popular FUT Versus Kevin Mbabu was and the hard link he provided in squads.
This new FUTTIES item celebrates his Winter Wildcard popularity upgrading him to 95 overall. He also joins the Nainggolan Club with every face card statistic set at over 90.
Djibril Sow FIFA 22: How to Complete the FUTTIES SBC
Here's how to complete the FUTTIES Sow SBC in FIFA 22:
One Segment
# of Players from Bundesliga: Min. 1
Team of the Week or Team of the Season Players: Min. 1
Squad Rating: 87
Team Chemistry: 55
# of Players in the Squad: 11
His WW SBC was previously worth around 80,000 coins to complete from scratch. This card will end up being a little bit more expensive if you don't have the items in your club simply based on the inflated TOTW and TOTS prices on the transfer market. But, if you were a massive fan of his 86 rated item, this 95 rated card is exponentially better.
FUTTIES Sow is easily the best midfielder in the Bundesliga, and he's arguably the best defensive midfielder in the game.
FUTTIES Sow expires Aug. 4 at 1 p.m. ET.