FIFA
Dodô FIFA 23: How to Complete the Rulebreakers SBC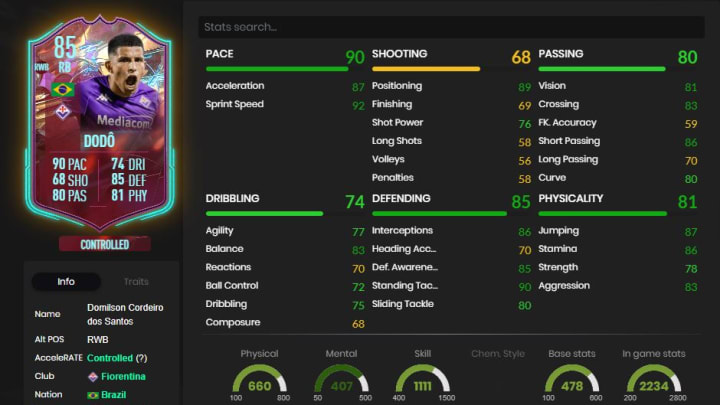 FUTBIN
The Dodô FIFA 23 Rulebreakers SBC is now live during the Team 2 portion of the Ultimate Team promotion.
Rulebreakers is an annual FIFA Ultimate Team promotion in which EA Sports changes how players operate by shifting their statistics around. A player will receive a decrease in a certain area to facilitate upgrades in other areas. Another aspect of the promotion is Rulebreaker Player Picks in which players have the choice between two different promotional items after completing an SBC set.
Fiorentina right-back Domilson Cordeiro dos Santos, commonly known as Dodô, received a Rulebreakers SBC. Here's how to complete the Dodô Rulebreakers SBC in FIFA 23.
Dodô FIFA 23: How to Complete the Rulebreakers SBC
To complete the Dodô Rulebreakers SBC, you will have to complete the following two squad challenges:
Segment 1
Number of IF Players: Min. 1
Minimum OVR of 85: Min. 1
Squad Rating: Min. 83
Number of Players in the Squad: 11
Reward: Small Gold Players Pack
Segment 2
Number of Players from Serie A TIM: Min. 1
Minimum OVR of 86: Min. 2
Squad Rating: Min. 84
Number of Players in the Squad: 11
Reward: Mixed Players Pack
Rulebreakers Dodô is coming in around 65,000 coins to complete from scratch. Unfortunately, it does not seem like this card is worth that investment for most players. Standing at 5'5", his height is a concern with Lengthy players making up the current meta as he will physically struggle to compete with those players. Dodô has 3-star weak foot and 3-star skill moves and a Short and Balanced body type. He has top-tier stats, except for his Agility and Reactions, which does hurt more since he's a full back. That being said, as a defensive winger, Dodô could be worth the pickup for Italian leagues or Brazilian teams.
FIFA 23 Rulebreakers Dodô expires on Oct. 29.