Donyell Malen FIFA 22: How to Complete the Fantasy FUT SBC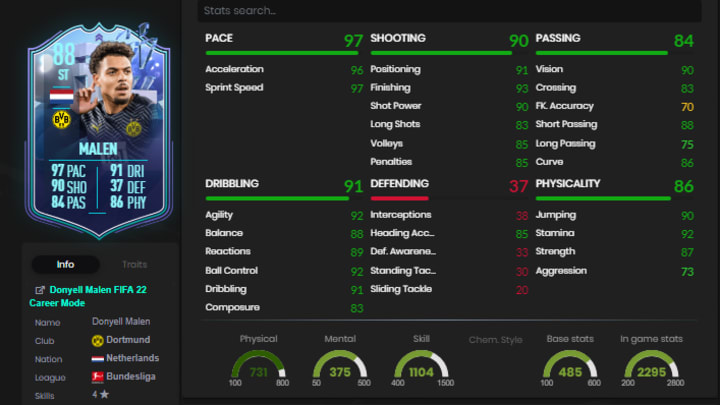 Photo by FUTBIN
Donyell Malen FIFA 22 Fantasy FUT SBC went live March 28 during the live item promotion giving fans yet another player to complete if they want.
Fantasy FUT is essentially a reworked What If promotion from FIFA 21 where players receive initial boosts and have the opportunity to upgrade further if the player completes certain objectives in real life. Players can upgrade three times, each at a +1 interval for completing an objective.
This is the second live item Malen has received this year following a Ones to Watch at the start of the game cycle for his move to Borussia Dortmund.
Donyell Malen FIFA 22: How to Complete the Fantasy FUT
Here's how to complete the Fantasy FUT Malen SBC in FIFA 22:
Segment 1
# of Players from Dortmund: Min. 1
Team of the Week Players: Min. 1
Squad Rating: 82
Team Chemistry: 70
# of Players in the Squad: 11
REWARD: Jumbo Premium Gold Pack
Segment 2
# of Players from Bundesliga: Min. 1
Squad Rating: 86
Team Chemistry: 65
# of Players in the Squad: 11
REWARD: Prime Electrum Players Pack
Malen is a good card, but lacks top tier stats before any upgrades come through. He also has a three-star weak foot and fans might not want to pay the 136,000 coins or so to complete the card with Team of the Season around the corner.
Fantasy FUT Malen expires April 4.