DOOM Eternal Slayer Skins: How to Get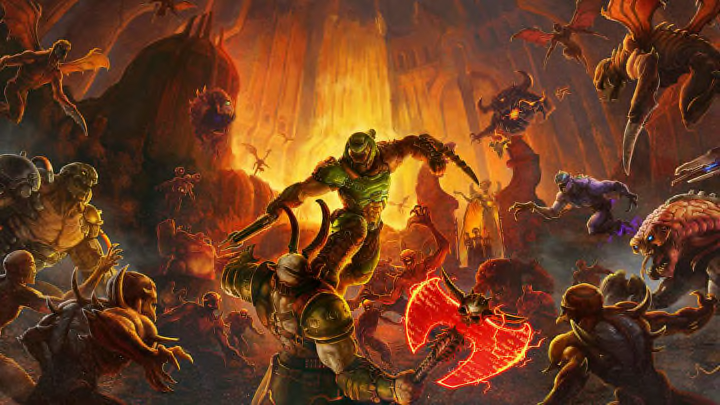 A tweet from DOOM's official twitter account showcased a set of DOOM Eternal Slayer skins. / Bethesda
DOOM Eternal slayer skins are coming as a customization option for players when the game launches.
With the release of DOOM Eternal just around the corner, a tweet from DOOM's official twitter account showcased a set of DOOM Eternal Slayer skins that will allow players to customize their Slayer in both singleplayer and multiplayer game modes. Here's everything we know so far about the DOOM Eternal Slayer skins and how to get them in-game.
DOOM Eternal Slayer Skins: How to Get
While not all the possible customization options have been revealed, there are a few skin packages available for players to earn in-game. One of main skin packages players can earn is the DOOMicorn Master Slayer Collection, which comes with the community favorite DOOMicorn skin in it's classic pink and white colors, but also in two other color schemes, Purple Pony and Night-mare. These skins are only available as a part of a Twitch Prime promotion, so in order to get them, players need to link their Twitch Prime account to their Bethesda.net profile before April 21.
Players can also earn other cosmetics and skins even before the game is released on March 20 by creating a Slayer's Club account and linking it with their DOOM Eternal account when the game is finally released. By joining the Slayer's Club, players earn the Zombie Slayer skin, with the opportunity to earn the 25th Anniversary Slayer skin by reading and interacting with content on the website.
Players can also unlock the Indigo, Bronze, and Red classic skins by buying and linking the recent re-releases of Classic DOOM, DOOM II and DOOM 3 respectively.
According to Bethesda, more skins and cosmetics will be released as the game is updated and patched after its release with Slayer Club members getting access to more exclusive rewards.